Movin' Up And Movin' Out – Our Billy Joel Inspired Guide for Tenants on the Move
"Mama if That's Movin' Up Then I'm …. Movin' Out"
We don't know about you, but every time we hear someone say they're moving out, our eyes glaze over momentarily as we perform the full Billy Joel hit track with specialised choreography in our heads – complete with on stage breakdown (seriously, Google Billy Joel meltdown and thank us later). We also simultaneously recite a lengthy and chronological to do list for said person who is, in fact, movin' out. That is largely because we are your friendly, knowledgeable estate agents and partly because we're going full lockdown crazy in isolation. Speaking of which, the pandemic has changed quite a few living situations as we know it, and we are well aware of many people now needing to move. That's why we have decided to compile the aforementioned chronological to do list for movers, shakers and Billy Joel big fans. Don't say we never give you anything.
Right Now
'I've gotta get it right the first time, that's the main thing, I can't afford to let it pass'
No, you can't afford to let it pass that's right Billy. If you start compiling all your tenancy related paperwork now, then you won't have a pop diva breakdown later when you crucially need to present your documents and can't find them beneath a pile of feather boas. Get it right the first time. That includes your tenancy agreement, proof of rent and deposit payments, inventory, utility bills, maintenance receipts, contents insurance if you have any, and all contracts connected to your property (gas, phone, internet etc). Get all these documents organised in a neat little file, scanned and ready to email to both current and potential landlords with style.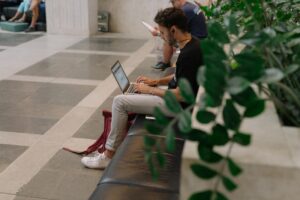 Just After Right Now
'We didn't start the fire, it was always burning since the world was turning'
Fancy your deposit back? Don't we all. Here's how to make sure you're not left short. Firstly, don't start a fire. Secondly, find out whether your deposit is protected with a government authorised deposit protection scheme. If it isn't, the landlord is liable for up to 3x the amount of the deposit in court. Thirdly, eye up your abode with hawk eyes against your original inventory and see what might have deteriorated. Last but not least, find out which items are deductible from your deposit and which are the responsibility of your landlord. Oh and to reiterate point one, don't start a fire.
One – Two Months Before the Big Move
'Though I've lost quite a lot I am still in control, they can keep what they've got, but they can't have my soul'
Don't be silly like Billy and lose out on money by not cancelling your bills in time or informing your landlord that you are indeed movin' out. Most tenancies require one to two months notice, but make sure you check your original agreement. Then you can both agree on the terms of your tenancy ending. Once you've confirmed the big move and agreed your tenancy with the new place, you can start telling the world your new address. That can be a rather long list, from your bank to your employer to your vet's aunty Noreen, so we recommend using a handy (and free) website like I Am Moving to help notify them all in one swift click.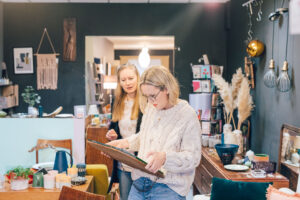 One Month to Go
'Cause we all need a place to call home, yes we all need a room of our own'
Time to organise moving day. Try to schedule your moving in and moving out days to overlap so that you're not left homeless/sleeping in your van. Next point in hand – start looking at removals companies or (wo)man with a van set ups and work out your best option. Depending on how much stuff you have, you might like to do it all yourself (friends with big cars? Get you) or hire a full removals company who do everything from pack up to unload to brush your hair. Now is the time you should also start looking at cleaning and service companies who can tackle the deposit threatening issues you have around the property and give it that much needed deep clean you might not be capable of during the big move.
One Week to Go
'Stack the chairs on the table tops, hang the sheets on the chandeliers'
Well maybe not quite, but we get the idea Billy our lad. Yes it's time to pack up and clean up. If you haven't already started collecting cardboard boxes from all and sundry then do, and may we recommend the humble blue or yellow IKEA bags for lighter items. Very strong. Now is also a good time to get your broadband supplier sorted with the new property so that you're not caught without Netflix for your move-in week bingeathon. At least two days before moving make sure you've notified your current and new gas and electric suppliers as well as the local authority so you don't end up in hot water (or without, as it were). Hiring tip: try to move mid week to keep costs down. Packing tip: pack up by room so that it's easier to unpack later. Moving day tip: get two days off work for the move. The second one is for lying in a statue like position for 24 hours.
Moving Day!
'This is the time, but time is gonna change, I know we've got to move somehow'
Yeah you're gonna move somehooow… Try to get a good night's sleep and have a hearty breakfast friends because this is going to be a workout. If you're leaving the property empty, make sure all appliances are unplugged, all main valves are shut and all windows/doors locked. Don't forget to take photos of the property for proof of condition when you moved. Another pro tip from Davies and Davies – have your heaviest items ready to load nearest the door. Once you're in your shiny new place, make sure it is indeed shiny and check gas, power and water are all running smoothly. Hopefully you remembered to get your WiFi up and running too, otherwise it's going to be a frustrating few days. Don't say we didn't warn you (in the previous point, actually).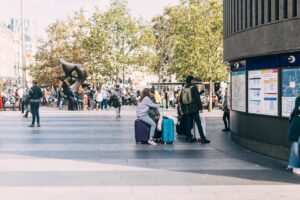 After the Big Move
'Well I'll never be a stranger and I'll never be alone. Wherever we're together, that's my home'
Once you've spent a suitable amount of time rearranging cushions and enjoying your new shower, it's time to return to your boring admin tasks you thought you'd left behind with the old you in the old property. We recommend checking the inventory of your new place and checking any inconsistencies, requesting copies of gas safety certificates etc and reminding your landlord about protecting your deposit. If you haven't received your deposit from the old landlord yet, write a formal written notice requesting it's return. And breathe!
Whatever the circumstances and reasons for your move, it needn't be as stressful as it seems. If any part of it feels too overwhelming or daunting, or you need help with any property jargon or technicalities, don't hesitate to give us a call or drop us a line. As we've established many times throughout the course of these articles, we're big friendly property geeks who love talking shop (/house).
Article by Sophie Taylor at Barefaced Studios
Photography by Odera Okoye at Barefaced Studios
Illustration by Veronika Danielsson at Barefaced Studios
Back to Useful Guides & Insights