Consumer Protection and Information
CONSUMER PROTECTION AND INFORMATION
Unfair Terms In Consumer Contracts Regulations 1999. We have carefully worded all of our terms and conditions used in our contracts with clients, as well as the terms with which we deal with tenants, to be readily understood and to be reasonable in all aspects. As far as we are aware, there are no terms we use which are indicated as being unfair in Schedule 2 of the regulations. Similarly, the tenancy agreements we use in properties we let are professionally drawn up by a company specialising in such legal documents, and should in all aspects be considered as fair in accordance with the regulations. Landlord clients should let us know if a specimen tenancy agreement is required. Should the landlord wish to use a tenancy agreement that we have not prepared, the landlord must take responsibility for it and ensure that it fully complies with relevant legislation, and provide us with a copy as soon as the landlord instructs us to proceed with the letting of the property. Please note, any terms contained in a tenancy agreement that a court deems unfair under these regulations will be unenforceable.
Consumer Protection Regulations. Our contracts have been drawn up to comply with these regulations, and allow the client a cooling off period as well as specific rights to cancel the contract after the client has accepted the contract and given instructions to us to proceed with the sale, letting or management of the property. However, where the client has confirmed we should proceed with instructions prior to the end of the cooling off period, there may be costs or charges incurred, which are fully explained and detailed in our contracts.
Complaints Procedure. If a customer wishes to make a complaint to us, we will supply the customer with a copy of our complaints procedure on request. Alternatively, or in addition, the customer may make a complaint to the Ombudsman or to the National Federation of Property Professionals (NFoPP), see below.
The Property Ombudsman (TPO) Scheme Notice/TPO Redress Scheme. We are a member of the TPO Scheme and abide by the TPO Code of Practice. The customer agrees that, in the event of making a complaint to the TPO or to the TPO redress scheme, we may disclose information relating to the letting, management or sale of the property to the Ombudsman. The customer also agrees that we may disclose their contact details to TPO Ltd (who are responsible for running the TPO scheme) to assist them in the monitoring of our compliance with the TPO Code of Practice.
The National Federation of Property Professionals (NFoPP). We are a member firm of this body and abide by their rules. The customer agrees that, in the event of making a complaint to the NFoPP, we may disclose to our professional body information relating to the letting, management or sale of the property.
Reasonableness. In all dealings with landlords and tenants, and with vendors and purchasers, we will ensure we act with a reasonable attitude in all matters. Similarly, landlords and tenants and vendors and purchasers are expected to act with a reasonable attitude in all matters. We reserve the right to refuse to deal with any request or demand that we deem unreasonable that is put forward to us by either landlord or tenant, or vendor or purchaser. Any landlord or tenant, or vendor or purchaser, who considers they have a grievance against us has the ultimate right to refer the matter to an appropriate authority, being The Property Ombudsman in accordance with our complaints procedure as above or any other such body as may be applicable.
General Data Protection Regulation (GDPR). We comply with all the requirements of GDPR to make sure any personal information we have on our records relating to our customers both actual and potential, are kept safe and secure. However, we will need to disclose certain information to some organisations such as utility suppliers and council tax departments, and our terms and conditions give further information on this. We also pass on information to other businesses which act on our customers' behalf, for example to solicitors whom our customers are considering instructing. We may share your information with credit reference agencies and other companies or statutory bodies for use in making credit decisions, to prevent fraud and to comply with our legal duties, or to pursue debtors. We may pass your information to financial services companies, but we will always ask your explicit consent either verbally or in writing prior to doing so. If you need further information please write to either the Lettings or the Sales Manager, Davies & Davies Estate Agents, 85 Stroud Green Road, London N4 3EG.
Fit and Safe for Letting. In respect of properties offered for rental, we may not be aware of any problems affecting the condition of the property or its fittings or contents, especially for properties we have not dealt with before. It is of vital importance for the landlord to ensure the property is in good order as well as fit and safe for letting, and we rely upon the landlord to do this. When problems do become apparent on or after we let a property, we will do all we reasonably can to remedy any problems, but the responsibility remains with the landlord. The following regulations and requirements apply:
Gas Safety (Installation and Use) Regulations 1998
Furniture and Furnishings (Fire Safety) Regulations 1988
General Product Safety Regulations 2005
Electrical Equipment (Safety) Regulations 1994
Plugs and Sockets (Safety) Regulations 1994
Housing Health and Safety Rating System
Tenancy Deposits. Should we manage a property that has been let, we will hold the deposit paid by the tenant in a properly insured account as required by law, in accordance with the scheme administered by The Dispute Service (www.tds.gb.com). Where we do not manage a property that we have let, the landlord may ask us to deal with the deposit, which we will hold as above. If the landlord does not want us to deal with the deposit, we will let the tenant know. It will be the landlord's responsibility to protect it as required by law, which includes giving full information as to the details of how the deposit is protected, to the tenant within a prescribed period of time. A valid notice seeking possession under S21 of the Housing Act 1988 cannot be served on a tenant whose deposit is not protected.
Property Descriptions. Where we market a client's property for sale or to let, we will produce a description of the property within our property details or brochure. A copy of this description will be sent to the client and we will be reliant on the client to inform us immediately if there are any misdescriptions or errors.
---
OUR FEES
Below is a comprehensive list of all our fees which are correct as of 01.06.2019.
Please note the charges listed below are the maximum fees that will be applied unless otherwise stated.
Fees Charged to Landlords.
All fees shown include VAT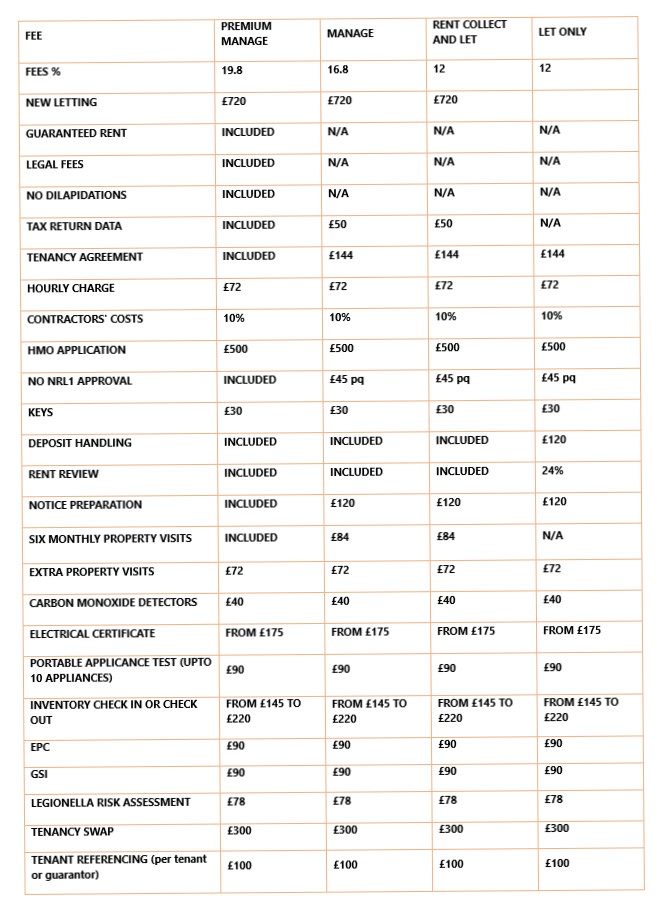 We may offer our landlords, vendors, prospective purchasers or other clients referrals to contractors, from which we may earn a referral fee directly from the contractor. There's no obligation for our landlords, vendors, prospective purchasers or other clients to use any contractors that we refer.Referral Fees Charged to Contractors.
The referral fee for these services is currently set at 10% of the total fee.
Fees Charged to Tenants From 1st June 2019.
All fees shown include VAT
Current Charges Prior to Tenancy:
Initially the equivalent of 1 week's rent will be taken as a holding deposit which will form part of the 1st month's rent, should you be successful.
One month's rent in advance.
Refundable deposit of 5 weeks' rent.
Current Tenants' Charges During and Post Tenancy:
Emergency contractor hourly call out charge (where tenant is negligent or damages the property) = from £148.80
Tenancy change requested by tenants includes variations or novations = £50
Charge for terminating the tenancy before the expiry of the fixed term = a charge not exceeding the financial loss experienced by the landlord, which will include a £720 fee to re-market the property and the monthly rent until a new tenant moves in or until the fixed term is reached, whichever occurs first
Lost keys or security device = charged at cost price of keys (we will provide a copy of the receipt)
Fees Charged to Non-Housing Act Tenants From 1st June 2019.
All fees shown include VAT
A Non-Housing Act Tenancy is formed when one of the following criteria is in place:
The annual rent exceeds £100,000
The property is occupied by an entity (Company let) rather that an individual
The property is not used as a main or primary home
There is a Resident Landlord
If you are in any doubt as to the type of tenancy which will apply to you, please speak to our branch staff.
Under the terms of the Tenant Fee Act if you enter a Non-Housing Act Tenancy, payments which may apply will be as follows:
Check-in Fee checking into the property and reviewing inventory minimum of £72
Tenancy Agreement and Setup drafting and execution of document if supplied by us: £300
Administration Fee set up of monthly standing order for rental payments, collecting and holding the Security Deposit as Stakeholder, issuing protection certificates: £50
Company Referencing Fee including verification of details, credit check and Companies House check: £175
Individual Reference Fee (per person): £75
Extension Agreements Fee negotiating and drafting extension to the fixed term: £125
Damage Fee checking replacement item with inventory and arranging for damage to be rectified on conclusion of tenancy: £90
Arrears Fee: £30
Overpaid Rent Fee: £30
Pet Licence: £75
If there are any guarantors for the tenancy:
Guarantor Referencing Fee including verification of details, credit check, employer and accountant reference (if available): £100 per guarantor
Deed of Guarantee Fee drafting Deed, negotiating clauses and executing document: £75
Important Information for Tenants.
Redress Scheme:
It's a legal requirement for estate agents and letting agents to belong to a government approved independent redress scheme. The role of an independent redress scheme is to provide fair and reasonable resolutions to disputes with members of the public.
We are members of The Property Ombudsman Scheme: https://www.tpos.co.uk/
Client Money Protection Scheme:
CMP schemes protect client money (such as rent and deposit monies) which is received by letting agents. Membership of a CMP scheme is a legal requirement from 1st April 2019.
We are members of the Propertymark Client Money Protection (CMP) Scheme, as required by our membership of ARLA and NAEA. Our Client Money Handling Procedures are covered in Propertymark' s Conduct and Membership Rules: https://www.propertymark.co.uk/media/1045366/conduct-and-membership-rules.pdf
Our certificates confirming Davies & Davies are part of the Propertymark Client Money Protection Scheme is available here and here.
Please note: in February 2017 NFoPP rebranded to Propertymark.
Sales Fees Charged to Vendors.
All fees shown include VAT
We charge no more than a 1.75% sales fee if we successfully sell your property.
In some instances, at our sole discretion, we may reduce our fee depending upon several factors which may or may not include:
if you are an existing and/or repeat customer of Davies & Davies;
if we are currently offering a discount as part of a marketing promotion;
market conditions.
Referral Fees Charged to Customers, Clients and Prospective Purchasers.
We may offer our customers, clients or prospective purchasers' referrals to other service providers, from which we may earn a commission or referral fee directly from the service provider.
These services and referral fees are:
£300.00 (approx.) per referral from Heron Financial
£80.00 (approx.) per referral from LEA surveyors
£120.00 per referral from Setfords Solicitors LLP
£125.00 per referral from Simply Conveyancing
You are not under any obligation to use the services of any of the recommended providers, though should you accept our recommendation the provider is expected to pay us the corresponding Referral Fee. The Referral fee is separate from your obligation to pay our own fees or commission.