Inside These Walls: Conran-esque Design in Finsbury Park
Design-geek power duo Sarah and Charlie Almond takes us for a tour around their charming two bedroom home.
Glistening with minimalist Scandi design and carefully curated Soho House Group style lighting, the Almond's home on Cornwall Road in Finsbury Park is a beauty to behold. Our conversation with the pair delves into their design inspiration, lighting squabbles and where to get the best Eggs Benedict in the area.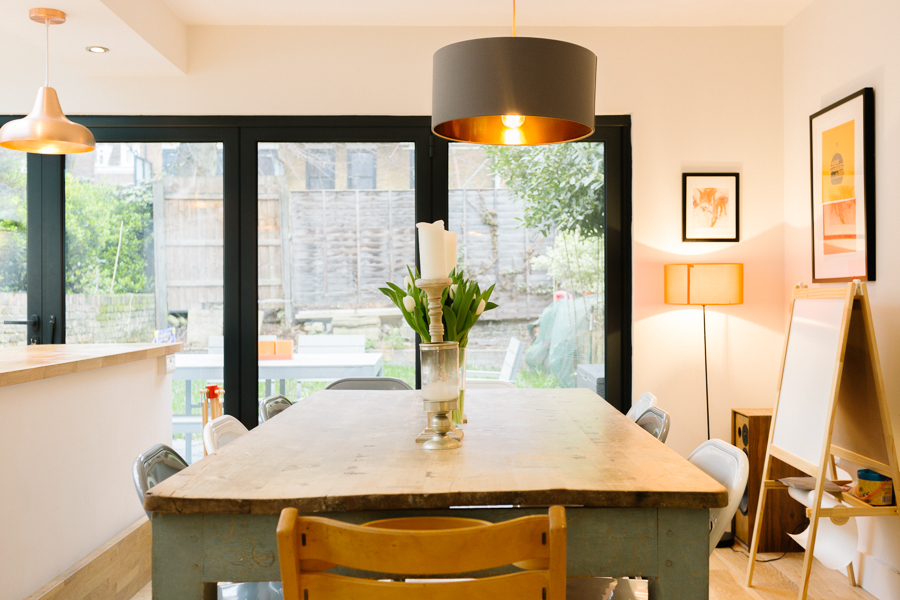 What First Attracted You to the Cornwall Road Property?
Sarah: "We loved having outdoor space and knew it had such potential for improvement – plus the street is really quiet as it's not a through street."
What Does a Typical Day Look Like for Both of You?
Sarah: "We get up and try to get ourselves ready before our two girls (1 and 3) wake up and then it's about 45 minutes of chaos while we get them ready and all out the door and girls to nursery and us both to work.  Then after a day at work it's the same process only in reverse! Once the girls are in bed we then exhale with dinner and a glass of wine around 7:30pm. We're usually binging on one show or another, at the moment we're still catching up on Game of Thrones and loving Catastrophe."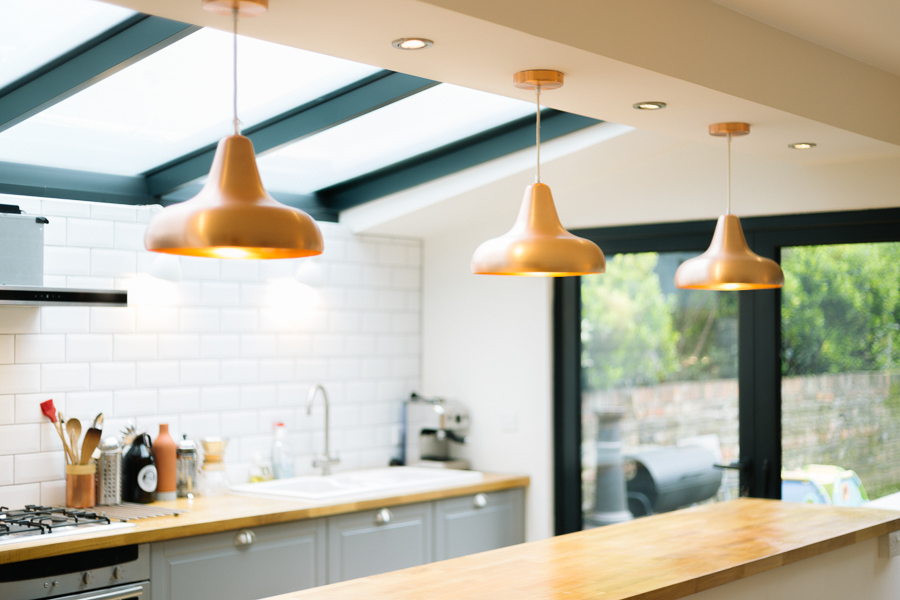 What Would You Call Your Interior Design Style? And Who's the Main Perpetrator of This?
Sarah: "Charlie is much more into the design but I'm allowed to veto if I'm not happy with something – otherwise I leave him to it as he's always been very into simple, clean but not cold design which works well at the moment with the Scandi trends."
Charlie:  "Yeah, I've been quite lucky in that both my parents are designers, so I think I've definitely picked up some of their eye for style and design. I have tried to keep it quite simple as Sarah says, but with pops of colour through either furniture or artwork. I think the light grey shades trend of the past few years is being slowly replaced with bolder choices, which is good although harder to get right. We've been relatively conservative with the place as we've known it's not our 'forever home' so there's loads of touches I'd have liked to have added (you should see my Pinterest board!) We were wary someone else would eventually be living here so it needed to appeal to a wider audience than just us."
"Charlie wanted a project and a project is exactly what he got. We spent 15 or 16 weeks living on a pull out sofa bed."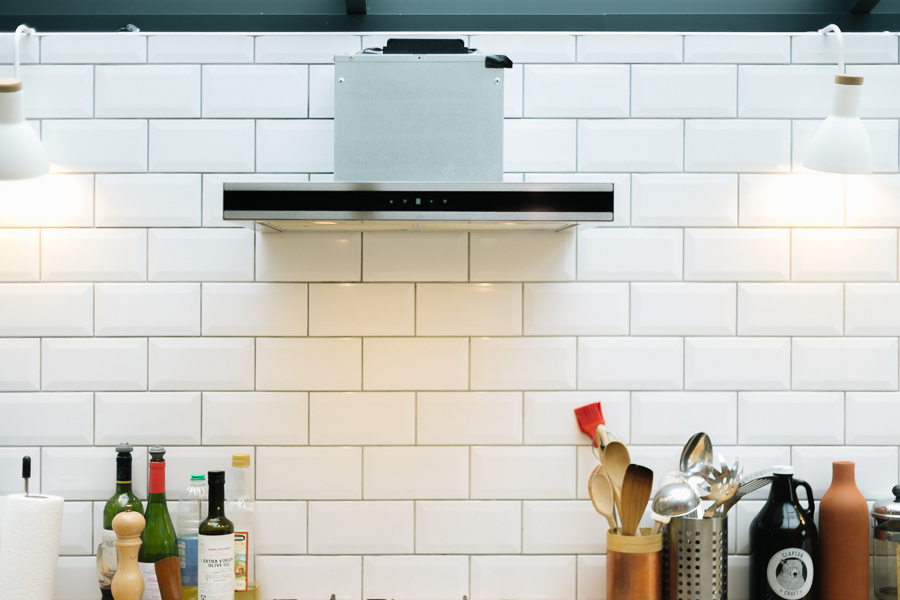 Whose Idea Was the Extension? Did It Take Long?
S: "Charlie wanted a project and a project is exactly what he got. It took around 15 or 16 weeks (estimated at 12) during which time we lived in the living room on a pull out sofa bed and bathroom. Our oldest who was one at the time had her own room, not knowing the luxury that was!"
C: "We knew what we wanted and scoured Pinterest, Houzz, online shops and actual shops for every single bit that went into it but it was so worth it."
S: "The lighting, for example, took AGES. Charlie is really big on having dimming lights both for the main lights and lights around the room. So all the standing lights and lamps plug into special sockets so they can be dimmed at the main switches too and the lighting can be just right. For the most part, it went pretty smoothly on the whole. We love it and will miss it dearly!"
"Lighting is REALLY important.  It makes a room."
C: "I feel like Sarah is mocking me slightly here, but I'll rise above it… lighting is REALLY important.  It makes a room. Having something other than spot lights in the ceiling to create shadows, shade and depth makes a huge difference.  When you next go into a great bar or restaurant and you like the atmosphere, I guarantee they'll have a mixture of lighting styles that does just that.  If you look at any of the Soho House Group venues, they have incredible lighting in their bars and lounges."
Do You Have Any Go to Design Blogs or Muses for Style Inspiration?
C:  "I have interior design books I pinched from my parents from years ago that have been really useful – the Conran Essential House book from the 90's has been a bit of a bible for me (you can get it from eBay for about £3).  Otherwise I've been keeping a photo journal on Pinterest of things I see out and about and then been quite geeky at clipping anything I see online that I like too."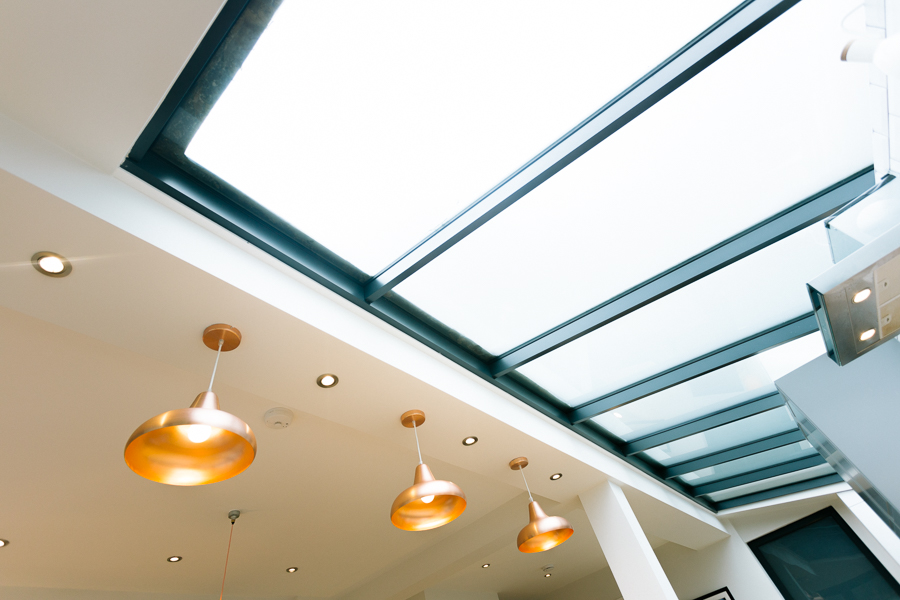 Is There Anything You Would've Done Differently?
S: "I actually don't think there is. We both have an element of project management to our jobs so we really planned it out well and, aside from eating food from a hot plate/oven or microwave for 3 months, kind of enjoyed it."
If You Could Have Anyone Round for a Six Person Last Supper at Cornwall Road, Who Would You Invite?
S: "Well luckily we have a huge dining table so can seat about 12, so it'd be made up of family and close friends. But if we just had 4 others, then our close friends Greg and Chloe would pop down from Highbury and then probably our friends Laura and Michael would have a slightly longer trip over from New York!  But we all know each other really well and would have a late night putting the world to rights and dancing stupidly around the room. It'd be a great night. Actually, now you've suggested it…"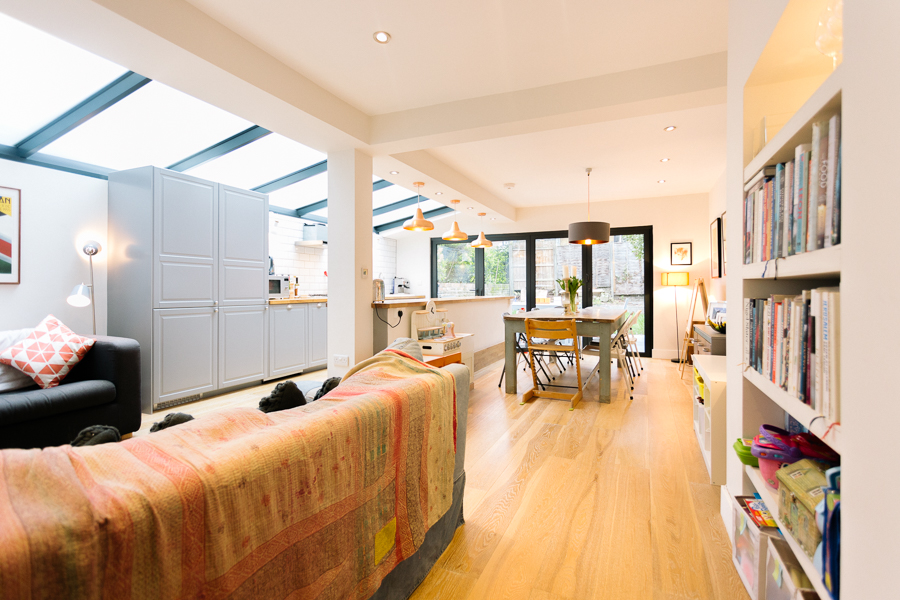 What's Your First Memory of Moving In to the Area?
S: "We moved in the day we had our daughter so I remember those early days taking her for walks, getting coffee at Vagabond and I had my first Eggs Benedict post pregnancy at the Front Room which I loved. I found out I was pregnant again the week after we finished the garden, so we haven't had as many parties out there as we'd like. But we certainly have enjoyed the ones we've had and try to crank up the BBQ and eat dinner outside as much as possible in the summer."
"I remember those early days taking her for walks, getting coffee at Vagabond."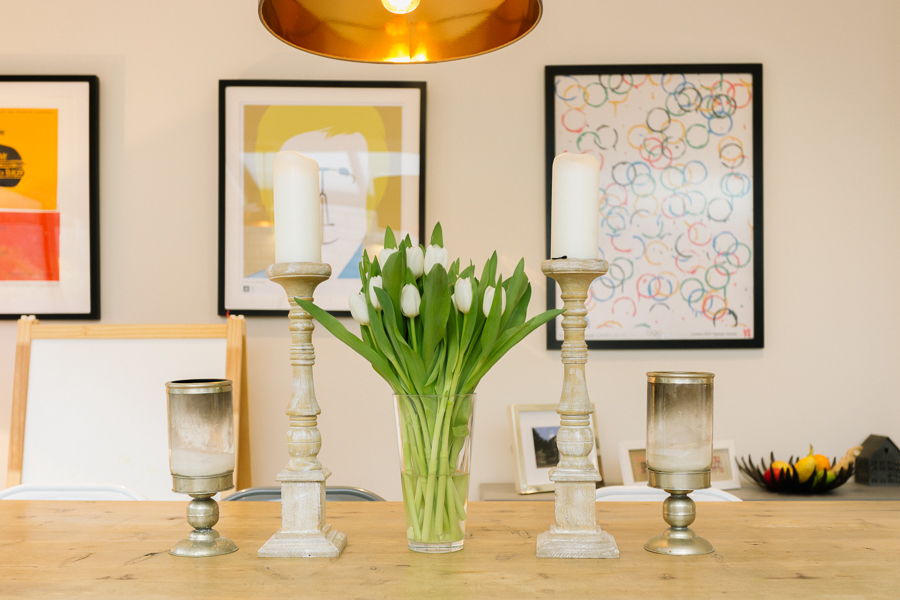 Why Did You Choose Davies and Davies As Your Estate Agents?
S: "We used to live just up the road in Highbury, so when we ventured up to Stroud Green to explore the area, we obviously stumbled across them. They have such a great location and it's probably the second most iconic building of SG after the Old Dairy. Davies & Davies were great when we bought the place and we knew they'd take care of us well."
What Local Recommendations or Priceless Tips Can You Relay for Anyone Thinking of Moving to the Area?
S: "We order from Que Me quite a lot for good Vietnamese. We really like Pizza Bakers too."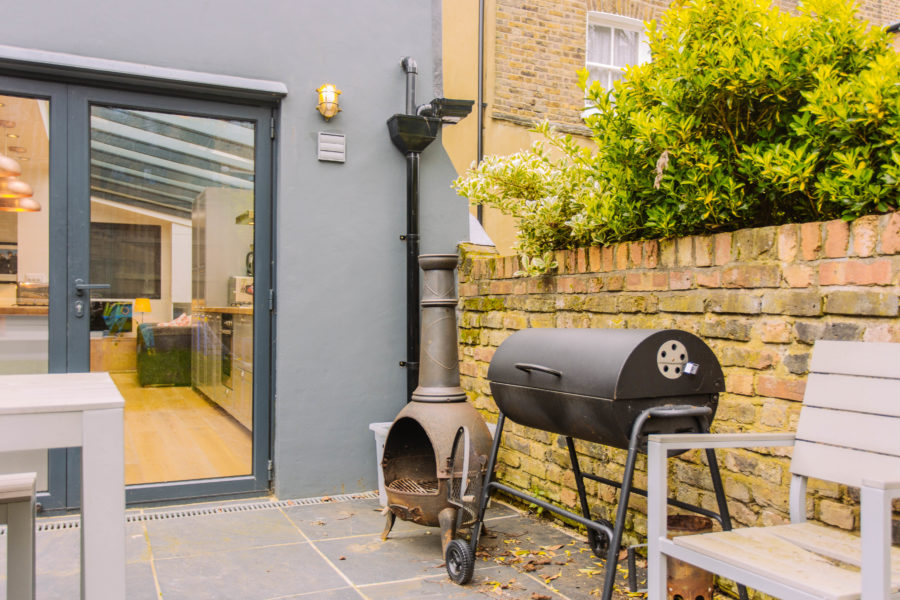 We Hear You're Moving to Canada. How Come?
S: "I'm from there so my family and oldest friends are there so when the opportunity came up with Charlie's work we had to take it. Toronto is really booming and on all the 'best places to live' lists so we're going to test it out and see if it's true!"
We're Pretty Sure Sarah and Charlie Are Going to Miss Finsbury Park Though. We Wonder What Their Lasting Impression of Cornwall Road Will Be?
S: "We'll miss the place for sure and certainly look upon it with fondness.  It was our first house together as a family, so will always be special.  I think the area is continuing to evolve and it'll be fascinating to see how the rejuvenation of Finsbury Park station impacts the area. It's great having so many independent shops, bars and restaurants, so we hope it doesn't lose that individualism."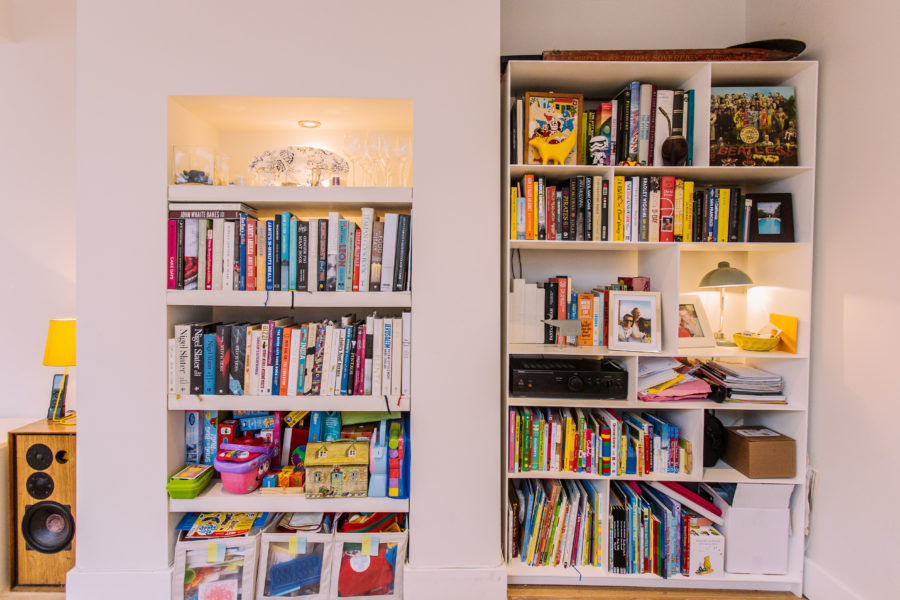 Fan of this Conran-esque style haven? Cornwall Road was marketed exclusively by Davies & Davies Estate Agents, who are based in Finsbury Park. You've missed your chance to live in this particular dream home (it was rented, unsurprisingly, at warp speed), but check out the Davies & Davies website for more sparkling properties across Inner North London – we particularly love this rental currently available on Albert Road, or if you're looking to buy then we'd love to be invited round for dinner at this amazing property. Or you can call them on 0207 272 0986 for a free property valuation.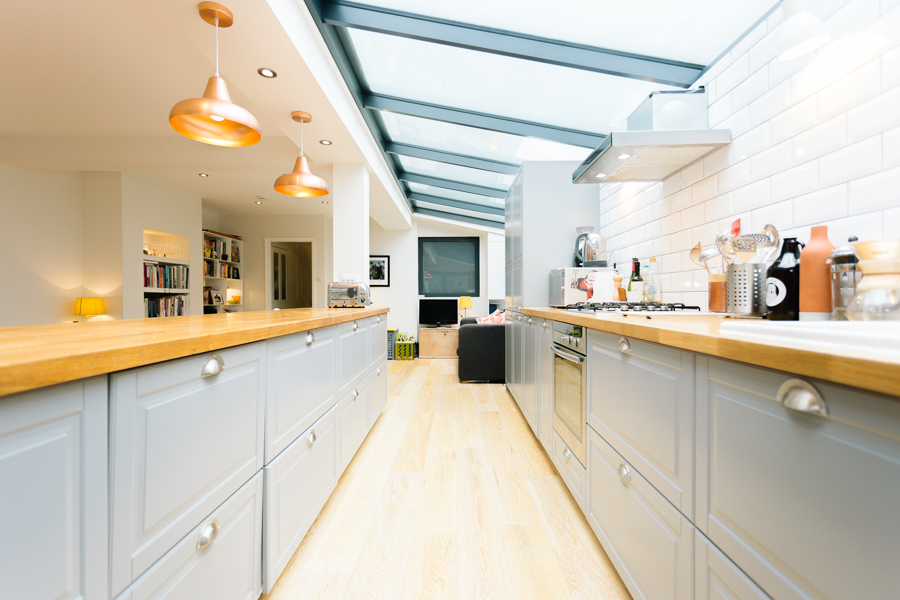 If you're looking to buy or sell through a market leading, award-winning estate agents (that's us!) contact our Sales Manager Mark here:
mark@daviesdavies.co.uk
020 7272 0986
Davies & Davies Estate Agents, 85 Stroud Green Road, London, N4 3EG
Article by Sophie Taylor at Barefaced Studios
Photography by Mike Barry at Barefaced Studios
Originally published for North London Estate Agents Davies & Davies in North Four Magazine
Back to Useful Guides & Insights