Our Fees
One of our core business values is to be transparent. This refers to, but is not limited to, transparency of service, professional advice, salaries and fees. As such, we strive to be fully transparent and upfront about any possible fees that may be payable for our services. This helps us ensure that our customers can make informed decisions and aren't faced with any unwelcome surprises.
Furthermore, we operate a fair fee policy which is intended to ensure, to the best of our ability, that the fees set for our services align with current expectations, market conditions and demand. You can read more about our fair fees policy below or press the orange button to be taken directly to a list of our fees.
How Do We Keep Our Fees Fair?
We regularly ensure our fees are competitive and aligned with the level of service we offer. We are not an online agent, nor are we a cheap agent. In part, our fees reflect the quality of our service. We are a customer-focused, service-led, award-winning business that prides itself on following best practice, providing excellence in customer care, undertaking exemplary marketing practices and ensuring our team are experts in their field through rigorous training initiatives. Furthermore, each of our sales, lettings, property management and surveying staff are either fully qualified members of, or are studying to become fully qualified members of, ARLA or NAEA or RICS.
However, our fees are not just reflective of our merit. We must remain competitive and sensitive to market conditions. We continuously evolve our services and their associated fees in response to research, customer feedback and demand.
Some of our fair fees' initiatives are:
we perform competitor, market and customer research across the year;
we commission mystery shops to ensure the level of our service matches the fees we charge;
we listen and respond to customer feedback and complaints, implementing all necessary changes to our services;
we do not lock our clients into unfair agreements that require them to use contractors that we may refer to them – we are happy to provide referrals but each of our clients are free to use their own contractors;
when we refer our legal, financial or surveying partners we do not impose any referral fees onto the client. Instead, if there are any referral fees they are paid for by the partner;
we do not charge extra for the marketing or advertising of our client's properties – this is included within the sales or rental fee;
we remain up to date with Government regulations regarding fees and do our best not just to be compliant but, wherever possible for a small business, also follow best practice in these areas.
Why Do We Ensure Our Fees Are Fair?
It's important to us to act as an ethical and honest business that is responsive to modern business practices. We want to treat others how we wish to be treated.
It's also highly important to us to be compliant with current laws and legislations. Relevant laws, legislations and codes that we must comply with are listed below. We require our staff to familiarise themselves with all relevant sections of the following acts, codes and guidance:
The Consumer Protection Act 2015;
The Consumer Credit Act 1974;
The Estate Agents Act 1979;
Code of Practice for Residential Estate Agents;
Code of Practice for Residential Letting Agents;
National Trading Standards Estate Agency Team Guidance on Transparency of Fees
Guidance on Transparency of Fees Involving Property Sales 2019;
Tenants Fee Act 2019;
How Do We Ensure Our Fees Are Transparent?
To have true transparency there must be a lack of hidden agendas or conditions,
accompanied by the availability of full information required decision making. As such, we have collated a comprehensive list of our fees into one document. These fees may be updated from time-to-time as is reasonable or due to market or business conditions.
Any changes to our fees will be notified to the relevant customers and/or clients in writing by letter or email. Furthermore, all documentation will be updated to reflect any changes in fees and, where applicable, new contracts will be arranged for signature between the Company and the customer/client/contractor/partner containing the updated fees.
To ensure that our fees are easy to access, we provide a full list of our fees in the following locations:
on our website daviesdavies.co.uk via a dedicated 'Fees' page which can be accessed via the menu bar and via the footer;
on any individual property listing profile pages and property listing thumbnails on our website;
printed out and displayed on our sales floor at our offices located at 85 Stroud Green Road;
upon request by email to info@daviesdavies.co.uk we can send a digital PDF of a full list of our fees;
in our Staff Manual.
Furthermore, all relevant fees will also be listed in any contractual agreement made between the Company and our customers, clients, contractors and partners.
Our Fees
Below is a comprehensive list of all our fees which are correct as of 04.12.2019.
Please note the charges listed below are the maximum fees that will be applied unless otherwise stated.
Fees charged to Landlords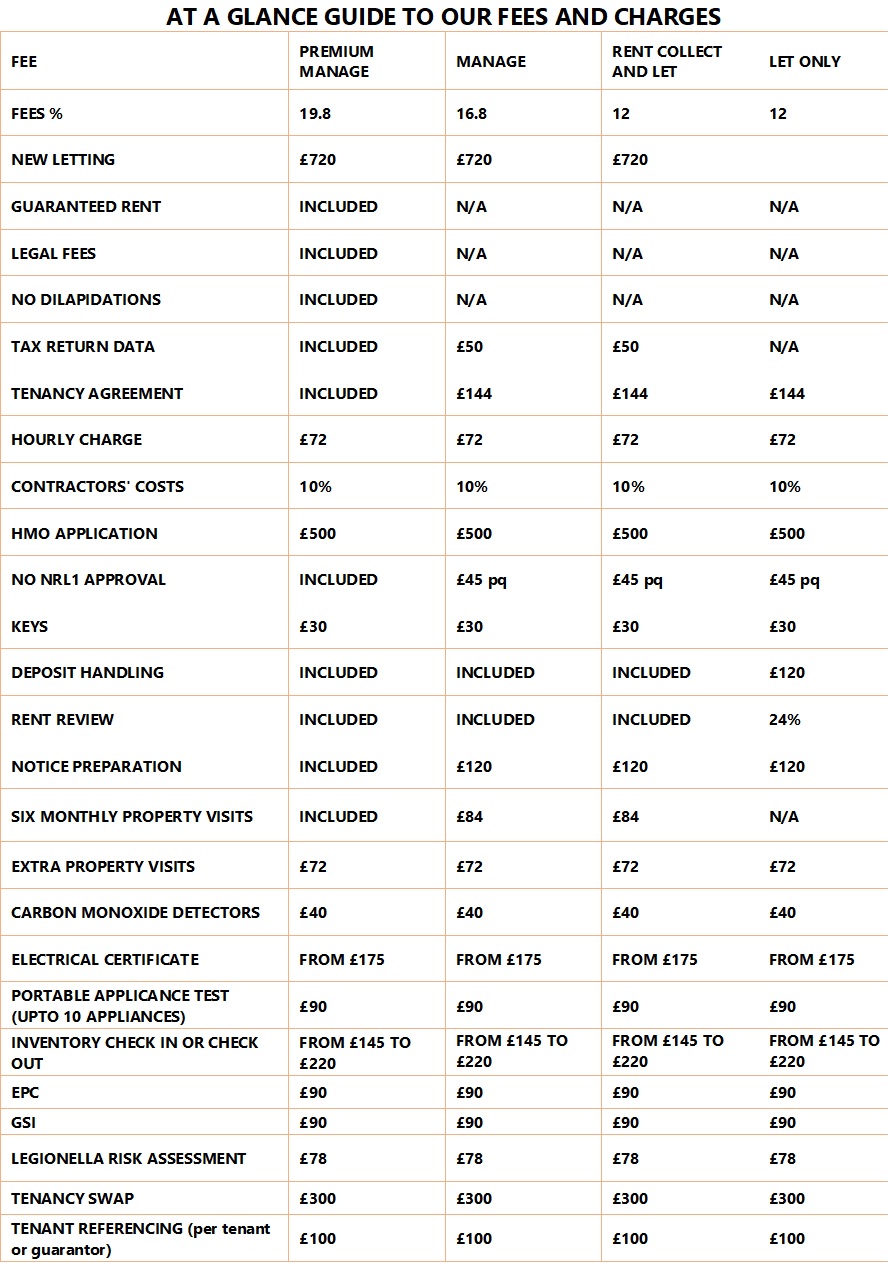 Referral Fees Charged to Contractors
We may offer our landlords, vendors, prospective purchasers or other client's referrals to contractors for repairs, refurbishments and other building work. In this instance we will charge an arrangement fee to our clients to cover the cost of arranging the work and dealing with the contractors pre and post completion of the work.
There's absolutely no obligation for our landlords, vendors, prospective purchasers or other clients to use any contractors that we refer to them.
Fees Charged to Tenants Prior to 1st June 2019
All fees shown include VAT
Charges Prior to Tenancy (prior to 1st June 2019):
1 month's rent in advance
Refundable deposit of 6 weeks' rent
Reference, eligibility under the Right to Rent Regulations and credit checking per tenant/guarantor: £100
Production of terms and agreeing tenancy: £150
Inventory and condition check cost:
1 bedroom property: £145
2 bedroom property: £160
3 bedroom property: £190
4 bedroom property: £220
Tenants' Charges During and Post Tenancy (prior to 1st June 2019):
Payment of rent by more than 2 monthly standing orders (each payment): £12
Returned payments: £24
Rent arrears letter /email: £24
Breach of tenancy agreement terms at end of tenancy, of cost of remedy: 12%
Preparation of new tenancy agreement & deposit handling on change of joint tenant: £300
Dealing with utilities or council tax on behalf of tenants: £60
Fees Charged to Tenants From 1st June 2019
All fees shown include VAT
Current Charges Prior to Tenancy:
Initially the equivalent of 1 week's rent will be taken as a holding deposit which will form part of the 1st month's rent, should you be successful.
One month's rent in advance.
Refundable deposit of 5 weeks' rent.
Current Tenants' Charges During and Post Tenancy:
Emergency contractor hourly call out charge (where tenant is negligent or damages the property) = from £148.80
Tenancy change requested by tenants includes variations or novations = £50
Charge for terminating the tenancy before the expiry of the fixed term = a charge not exceeding the financial loss experienced by the landlord, which will include a £720 fee to re-market the property and the monthly rent until a new tenant moves in or until the fixed term is reached, whichever occurs first
Lost keys or security device = charged at cost price of keys (we will provide a copy of the receipt)
Fees Charged to Non-Housing Act Tenants From 1st June 2019
All fees shown include VAT
A Non-Housing Act Tenancy is formed when one of the following criteria is in place:
The annual rent exceeds £100,000
The property is occupied by an entity (Company let) rather that an individual
The property is not used as a main or primary home
There is a Resident Landlord
If you are in any doubt as to the type of tenancy which will apply to you, please speak to our branch staff.
Under the terms of the Tenant Fee Act if you enter a Non-Housing Act Tenancy, payments which may apply will be as follows:
Check-in Fee checking into the property and reviewing inventory minimum of £72
Tenancy Agreement and Setup drafting and execution of document if supplied by us: £300
Administration Fee set up of monthly standing order for rental payments, collecting and holding the Security Deposit as Stakeholder, issuing protection certificates: £50
Company Referencing Fee including verification of details, credit check and
Companies House check: £175
Individual Reference Fee (per person): £75
Extension Agreements Fee negotiating and drafting extension to the fixed term: £125
Damage Fee checking replacement item with inventory and arranging for damage to be rectified on conclusion of tenancy: £90
Arrears Fee: £30
Overpaid Rent Fee: £30
Pet Licence: £75
If there are any guarantors for the tenancy:
Guarantor Referencing Fee including verification of details, credit check, employer and accountant reference (if available): £100 per guarantor
Deed of Guarantee Fee drafting Deed, negotiating clauses and executing document: £75
Important Information for Tenants
Redress Scheme:
It's a legal requirement for estate agents and letting agents to belong to a government approved independent redress scheme. The role of an independent redress scheme is to provide fair and reasonable resolutions to disputes with members of the public.
We are members of The Property Ombudsman Scheme: https://www.tpos.co.uk/
Client Money Protection Scheme:
CMP schemes protect client money (such as rent and deposit monies) which is received by letting agents. Membership of a CMP scheme is a legal requirement from 1st April 2019.
We are members of the Propertymark Client Money Protection (CMP) Scheme, as required by our membership of ARLA and NAEA, and as required as a RICS Regulated Firm. Our Client Money Handling Procedures are covered in Propertymark' s Conduct and Membership Rules: https://www.propertymark.co.uk/media/1045366/conduct-and-membership-rules.pdf
Our certificates confirming Davies & Davies are part of the Propertymark Client Money Protection Scheme are available here and here.
Please note in February 2017 NFoPP rebranded to Propertymark.
Sales Fees Charged to Vendors
All fees shown include VAT
We charge no more than a 1.75% sales fee if we successfully sell your property.
In some instances, at our sole discretion, we may reduce our fee depending upon several factors which may or may not include:
if you are an existing and/or repeat customer of Davies & Davies;
if we are currently offering a discount as part of a marketing promotion;
market conditions.
Referral Fees Charged to Customers, Clients and Prospective Purchasers
All fees shown include VAT
We may offer our customers, clients or prospective purchasers' referrals to other service providers, from which we may earn a commission or referral fee directly from the service provider.
These services and referral fees are:
£300.00 (approx.) per referral from Heron Financial
£80.00 (approx.) per referral from LEA surveyors
£120.00 per referral from Setfords Solicitors LLP
£125.00 per referral from Simply Conveyancing
You are not under any obligation to use the services of any of the recommended providers, though should you accept our recommendation the provider is expected to pay us the corresponding Referral Fee. The Referral fee is separate from your obligation to pay our own fees or commission.