Baby, Baby, Baby, Ooh! Buying a Home While Pregnant or Adopting.
Stress free advice for a life changing time.
Firstly, congratulations! Whether you're currently housing a melon sized ball of life change in your nether regions, or flirting with the idea of adopting; you're doing one heck of a wonderful thing. But we know how overwhelming the house buying process can be, let alone with another huge life change on the horizon. That's why we've compiled a nursery room full of tips, tricks and advice when it comes to buying whilst pregnant or adopting. From your finances to your child gates, it's time to dim the lights and listen to Davies and Davies Story Time.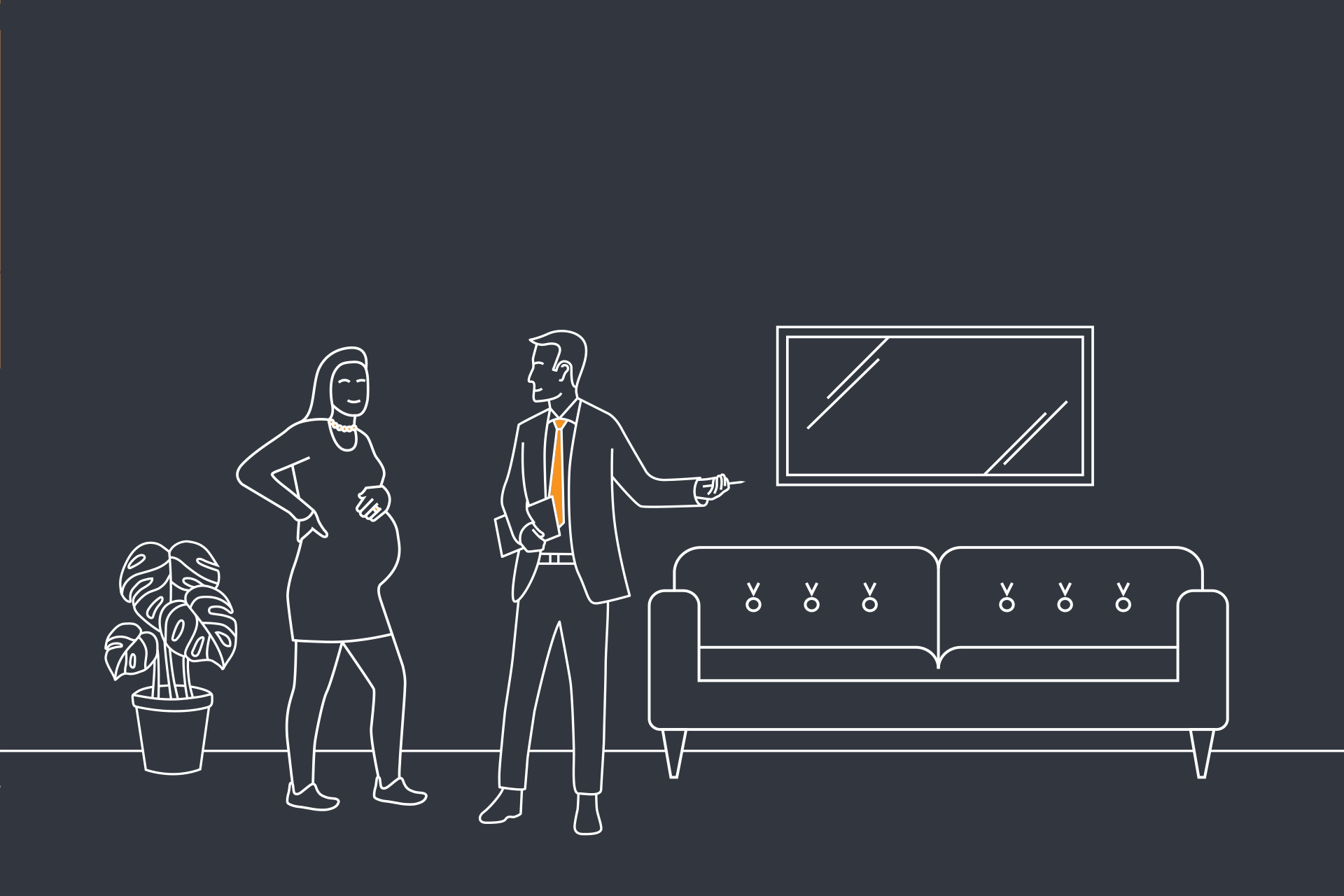 What came first, the mortgage or the baby?
It's an age old question, we confess, and one that really needs no answer. Because, as you may have quite rightly guessed, it doesn't matter. It's entirely up to you. What you can debate, however are the ins and outs of your specific situation. Take for instance the concept of school catchment areas for when your child needs to, you know, get educated and that. You don't want to be kicking yourself in a matter of a few years, wishing you'd moved a mere two postcodes round the corner to enrol them into a more suitable school for their needs. Another thing to consider is the relative mental stress and physical strain moving house can take, which may not be too appealing an idea when heavily pregnant or holding a heavy baby / toddler. Again, this is all academic however, and only you will know your own limits. We are but a lowly guide in your home buying process. *Tips hat like a garden gnome*
Baby, hold on
Stop, drop and consider your finances. That's what we like to chant before any form of procreation and/or adoption form filling. We know it's an exciting prospect and you may or may not be in full nesting mode dependent on your fluctuating hormones and stage of adoption process. Again, we know, we've quite literally been there. While you're out stroking stuffed rabbits down the White Company, your bank balance is stroking its chin nervously wondering how you're going to afford health insurance, crib, childcare and said plush velveteen bunny you're currently cradling like a new born. Perhaps pop the fluffy baby surrogate back in its pile and crunch some numbers back at home. To add to the list of expenses associated with moving house (see our article for a lovely breakdown), you'll also need to remember the following lovely-but-not-exhaustive list of baby necessities :
Upfront Baby Items (strollers, blankets, furniture, monitors, cot, etc.)
Ongoing Baby items (clothes/food/nappies, etc.)
Health Insurance
Life Insurance
Childcare
Education Fund
Whew. It's a lot to think about, never mind fork out for. But the silver lining is your taxes, for once. Welcoming a new person into your life can have a positive effect on your tax filing situation, and its worth chatting to a financial expert about what you can and can't afford mortgage-wise at this stage in your soon-to-be very exciting life
Nobody puts baby in the corner
Don't forget the baby! When you're looking for new homes, remember to factor in that tiny diva who is soon to be demanding inedible items to gnaw on, sharp corners to knock against and lead based paint to lick. That's right, homes built pre 1978 may have used some of that tasty, tasty lead based paint that really does wonders for your insides. Look to see if the stairs could be gated without too much work for example, and if the hallway is made of that gorgeous, head bump inducing stone. Lovely stuff! Another thing to consider is the space outside and whether there's a huge, inviting, busy road to play on or a driveway full of gravel to graze your knees upon. Yes, we know we're sucking all the fun out of this process, but cut knees and bumped heads are a much smaller barrel of laughs than all this prep work. Take a list of requirements with you to each viewing and make notes and breathe! Remember that most things can be altered to suit your child's needs as long as you're prepped, Carol.
Don't be a cry baby (find the right price)
Yes, we're talking about money again. Get used to that merry topic of convo, because it'll be cropping up ten fold if you're thinking of buying a house and bringing up baby. If your heart sinks at the idea of discussing finances and balancing the books, you might not be ready for what is to come. Budgeting, calculations and dare we say the odd spreadsheet may turn out to be the order of the day when it comes to preparing for your new life changes, so don't shy away and pluck your head out that sandpit. Once you know you can afford the outgoings, you can cheerily pop your head back into dreamy, fluffy baby world and enjoy the nesting process from start to finish. As a simple start, we'd recommend keeping your monthly home payments at (or, ideally below) 28% of your gross monthly income. There are some rather nifty online mortgage calculators out there you can use to work out your affordability and get all specific about it with interest rates and down payment amounts. It can be fun, we promise.
Ice, ice baby (cool your spending)
Woah there, Keith. Do you really need that third flat white from the swanky new barista in town? Yes, you probably do and no, we're not judging you. We hate that new adage that millennials would be able to afford to buy a house if only they stopped chaining coffee and injecting avocado into their forearms. It's a lazy criticism that doesn't add up, literally. Yes you'll need to reign in the spending and get down to the brass tacks of what you really need to be spending money on right now, but skimping on a coffee here and there isn't quite the answer. As long as you're being sensible, living within your means and saving as much as you can, a mortgage lender will see that. It's true that lenders are exercising extra caution of late when it comes to assessing your finances, but concentrate on paying your bills on time, rather than sweating over that Eggs Benedict you enjoyed last Thursday.
Baby wants a mortgage
For those of you who are currently cooking up a delicious baby bun right now, you might be wondering if your pregnancy can affect your mortgage application. Fortunately, no. In a world of face masks, covfefe, global anxiety and handmaids, at last there is one piece of normality. Your pregnancy is not a basis to deny or delay a loan and to do so is a violation of the Fair Housing Act. Well thank goodness for small mercies. Women cannot be singled out for being on maternity leave for loans they are eligible for, but your income and resources will need to be verified. Hopefully it won't be an issue, but know that advocates at Fair Housing centres can help to investigate any situation where you have felt discriminated against due to maternity leave.
If you're feeling overwhelmed by all the above information, or we've simply whetted your appetite for more, we're here to help. This is a positive, glorious time that you we want you to look back on fondly whilst re-painting the nursery bat black for a moody teen. Give us a call, drop us a line or even pop in to see us (masked, please) for more advice and nods towards the best resources available. You've got this!
Contact us:
alex@daviesdavies.co.uk – Lettings Director (contact for lettings and property management)
mark@daviesdavies.co.uk – Sales Director (contact for sales, new homes and chartered surveying)
020 7272 0986
Davies & Davies Estate Agents, 85 Stroud Green Road, London, N4 3EG
Article & images by Barefaced Studios
15 April 2021
Back to Helpful Guides & Insights