How to Move up the Property Ladder
Our guide to choreographing your property progression
Whether you're Mariah Carey looking to expand your property portfolio following a very public divorce. Or you've unexpectedly expanded your family and need more space. Perhaps you simply fancy relocating somewhere a little more bougie. Well, have we got the guide for you. There are lots of factors to consider before taking the plunge, even if you have been suddenly blessed with Mariah's bank balance. Read on to work out if a manoeuvre up the property ladder is right for you.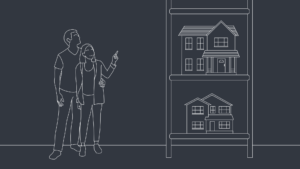 I'm in chains
Before snapping up that glittering penthouse in Hampstead, it's time to decide whether or not you will sell your existing abode first. The alternative route requires some bold choreography not for the faint hearted. This is where you attempt to complete both your sale and new home purchase on the same day. Such bravery takes the coordination of a Strictly Come Dancing professional at the top of their game.
Us pros at Davies & Davies, however, can help you nail that merry dance in our sleep. If you do decide to sell your property first, you'll find you're in a stronger position as one of those elusive, alluring chain free buyers. But do remember, somewhat crucially, that you'll need to account for the period in which you're effectively without a home in between sales. Mother-in-law's spare room anyone?
City mouse or country mouse
Yes, that six bed garden flat sure is a steal, but you're a 40 minute trek to the nearest bus stop and you don't drive. If you're a city mouse with a penchant for Deliveroo and tube access, don't get sucked in by that cheap and cheerful abode in the arse end of nowhere. Compromises will, of course, have to be made on the whole. But it's best to make a list of your requirements and stick to the majority of those so you don't get pulled off track by a pretty porch. Sometimes jotting down what you love (and hate) about your current home can help kickstart the process and focus your mind.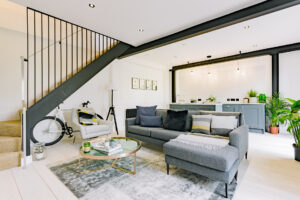 To mortgage or not to mortgage
Ruling out a windfall / aforementioned Mariah Carey bank balance, you're probably in the market for a mortgage now you've found your new home. There is the possibility of transferring your current mortgage to the new property. But that doesn't cut out the inevitable paperwork and head scratching involved.
It all depends on the value of your new home and what you still owe on your current mortgage. You might find the equity in your home can be used to offset the cost of all, or part, of the new deposit. Fingers crossed eh, Barbara? But if this all sounds like a bit of a paracetamol chaser, give us a shout for more clarity! We can help you work out if you could be getting a better deal in the meantime.
Money talks
Besides the deposit, new mortgage and associated fees, there are some extra sums to add to your spreadsheet. Factor these in when you're making a decision to avoid potential 'why me' moments down the line. First and foremost we have estate agent's fees, sitting at around 1-3% of the property's sale price usually, plus 20% VAT.
Mortgage valuation fees are not always charged, but vary in price from £150 to £1,000. So it's a good idea to find out in the beginning with your lender. Legal fees are unavoidable on both ends, as solicitor and conveyancer services are required for both buying and selling a property. This can cost anywhere between £800 to £1,400 plus £250+ for any local searches. We also always advise obtaining a structural survey before signing on the dotted line. Which can range from £250 to £500 or possibly more.
Finally, there's the big move. Unless you are an extreme minimalist with nothing but a small spider plant to your name, you're going to need to hire a professional removals company to shift your life's belongings from house to house. This cost depends on your house size, distance to travel etc. so have a good look around for price comparisons.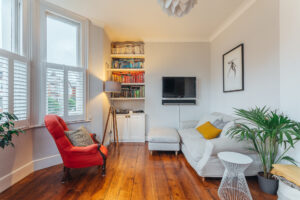 Stamp it out
Here comes the necessary evil for all you second steppers out there. First time buyers can effectively side step stamp duty if their property is under £300,000. But for those of you purchasing your second home, stamp duty is an unavoidable elephant camped out in the reception room of your new home. The first £125,000 is still elephant free, but beyond that the charges increase as follows:
Properties up to £250,000 in value, 2% is charged on the portion above £125,000
Properties up to £925,000 in value, 5% is charged on the portion above £250,000
Properties up to £1.5 million in value, 10% is charged on the portion above £925,000
Properties over £1.5 million in value, 12% is charged on the portion above £1.5million
They're in chains
Oh, the domino effect of property purchasing. Even if you come squeaky clean and chain free, the Tom and Dick purchasing your home probably won't be. Plus the Harrys selling their abode to you will most likely be entering a whole new chain of their own too.
So, as gently suggested in the first paragraph, we'd recommend selling up first where possible. This will help put you in the sweet spot for negotiations and speed up the whole process. This is, of course, not always an option. So you could try find properties that are part of a smaller chain at least. Don't worry, your solicitor will handle the ins and outs of the whole pully system so you're not left holding the rope and wondering when to exchange. Squid Game tug-of-war style.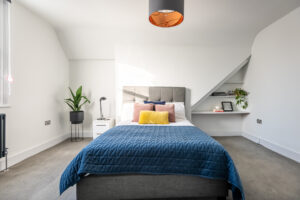 Don't leave us hanging on the telephone
If you're still thinking of stretching to the next rung – congratulations! Give us a ring at Davies & Davies and we'll help you make the perfect next step. From advice, to valuations, to the crème de la crème of inner North London properties. We've got you covered every step of the way.
Contact us:
alex@daviesdavies.co.uk – Lettings Director (contact for lettings and property management)
mark@daviesdavies.co.uk – Sales Director (contact for sales, new homes and chartered surveying)
020 3820 2492
Davies & Davies Estate Agents, 85 Stroud Green Road, London, N4 3EG
Article & images by Barefaced Studios
27 January 2022
Back to Helpful Guides & Insights