Tenants Rejoice and Landlords Take Heed: The Renters Reform White Paper is Here
Release your worries - a look at the all new rental regulations
In the words of the UK Government as they boldly released the all dancing, all singing Renters Reform White Paper – brimming with anticipation and slick with sweat – "release your trade! Release the stress! Ohh, let's go, forget the rest!" Wait. Maybe that was Beyonce. Well either way, each are going through a Renaissance if you will and have some life changing new rules to heed for landlords, tenants and Beyonce fans alike. Let's take a deep dive into the papers and find out what on earth they're asking us to do.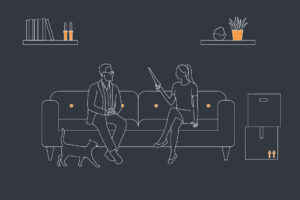 Release your stress (in the PRS)
The way we rent is changing, thanks to the new Rental Reform White Paper that was released in June 2022. Called 'A fairer private rented sector' white paper by the Government, the new rules aim to provide better housing quality and more safety for tenants in the private rented sector (PRS). Sounds good and certainly less of a stress for tenants, but what does that mean for landlords?
Release your time
We know everyone is time poor right now, so let's get straight to the point – what exactly does the Rental Reform White Paper include? Well, Mrs Busy Bee, the White Paper sets out that:
Section 21 evictions will be abolished (Gasp! More on this later)
The Decent Homes Standard will be applied to the Private Rented Sector
An Ombudsman will be introduced for the Private Rented Sector (welcome to the stage!)
A Property Portal will be introduced for landlords (less exciting than it sounds)
Blanket bans on renting to families with children will be abolished
All tenants will be given the right to request pets in their residency, which landlords must not unreasonably refuse. (No more rejections based purely on your cat's repulsive face and personality. Seriously though Susan, Mr Snuffles is a horror show in dire need of a trip to the vet).
Release your anger
As a landlord, you might be feeling a little concerned by the news and perhaps even a little irate. That's largely, we imagine, down to the abolition of Section 21. For those not down with the lingo (losers), Section 21 states that a landlord does not have to provide a reason for ending a tenancy. When the renters reforms take place, landlords who wish to evict their tenant will have to rely on Section 8.
Release your tenant
The grounds for a Section 8 notice can only be served when a tenant is in breach of the tenancy agreement. This means that, as a landlord, you will have to give a 'concrete and evidenced reason' to evict a tenant with some of the most common grounds including rent arrears, property damage, subletting and/or antisocial behaviour. Playing Beyonce's new album full blast on repeat into the wee hours could fall into that category, depending on how you feel about the Queen B. A full list of grounds for eviction can be found here. https://en.wikipedia.org/wiki/Section_8_notice
Release your indecent standards
Another factor included in the Reforms is the Decent Homes Standard which, contrary to popular belief, doesn't imply that you must be fully clothed and 'decent' within your home at all times. The Standard ensures that a property will be a 'safe and decent home', meeting certain criteria as well as the Home Fitness for Human Habitation Act.  If your property is deemed 'non-decent', you could face fines and reduced abilities to evict your tenant. Standards include holding a 'reasonable' state of repair, 'reasonably' modern facilities & services and a 'reasonable' amount of thermal comfort. That's also what we look for in a decent pair of underpants, funnily enough.
Release your Ombudsman
Ladies and gentlemen, please give a warm welcome to your Ombudsman! In order to try to reduce the number of possession cases that go to court, the proposed Ombudsman for the Private Rented Sector will be introduced (to mild applause). This will mean solving and settling landlord and tenant disputes quickly, for less dollar dollar bling bling and without court involvement. Less stress all round. Encore!
Release your fixed term tenancies
Under this reform, all tenancies will be periodic from day one, with no more fixed term tenancy agreements. This additional change is designed to increase security and provide more stability for tenants, with a single system of periodic tenancies. But don't worry, to ensure landlords are not left out of pocket (pipe down Paul) the Government are proposing that a tenant notice requirement will increase to two months to ensure they landlord has enough time to find new tenants. Phew.
Release your property portal
While this might sound reminiscent of a Doctor Who-esque estate agent with a Ford Fiesta-shaped Tardis, a property portal is far from otherwordly (sorry). As part of the White Paper, the property portal is actually an online platform that is being introduced to help landlords to understand and comply with their responsibilities whilst giving tenants information to deal with 'unscrupulous' landlords. It is, however, bigger on the inside.
Release your impatience
The new rules are rumoured to be implemented as soon as March 2023, which some believe is a tad optimistic, but still feasible. It is still unclear whether it will have retrospective impact. If you have any further questions or concerns, as a landlord or tenant, you can always give us a call or drop in to the office any time (during work hours that is) and our emails are always open.
Contact us:
alex@daviesdavies.co.uk – Lettings Director (contact for lettings and property management)
mark@daviesdavies.co.uk – Sales Director (contact for sales, new homes and chartered surveying)
020 3820 2492
Davies & Davies Estate Agents, 85 Stroud Green Road, London, N4 3EG
Article & images by Barefaced Studios
14 July 2022
Back to Helpful Guides & Insights