Help Support Our Local Community
Love N4 in the time of Corona. A local business directory and how to support our local community.
**We'll do our best to keep this directory updated – the most recent update is 06.11.2020.**
In an effort to help support our local community during this strange, scary time, we've created this directory and guide. This directory features local tips, updates, offers and precautions being taken by and for local people and businesses across Finsbury Park and Stroud Green during this 'don't panic!' pandemic. Read on for information on local businesses, help available locally and how you can help others by buying from small independent businesses, joining local initiatives and donating to local charities.
Staying protected, helping to support our local community and keeping spirits lifted are really important during these strange times we find ourselves in. Let's make #viralkindness a real world action that trends!
How to use this resource:
This article begins with a list of ideas on how you can support our local community across Stroud Green and Finsbury Park.
Next we've created a directory of local businesses, charities and organisations detailing if they're closed or open plus other information such as limited opening hours, delivery services, special offers and free coffees for NHS workers! The directory also includes local groups and charities who are helping those who are vulnerable, worried or self-isolating.
If any local businesses, groups or people would like us to add their business, organisation or initiative to the directory, or update any of the below information, please contact claire@barefacedstudios.com. Claire runs local design agency Barefaced Studios and is also a Company Director here at Davies & Davies. Davies & Davies is a family business founded by Grandma and Grandpa Davies (that's Claire's Grandparents!).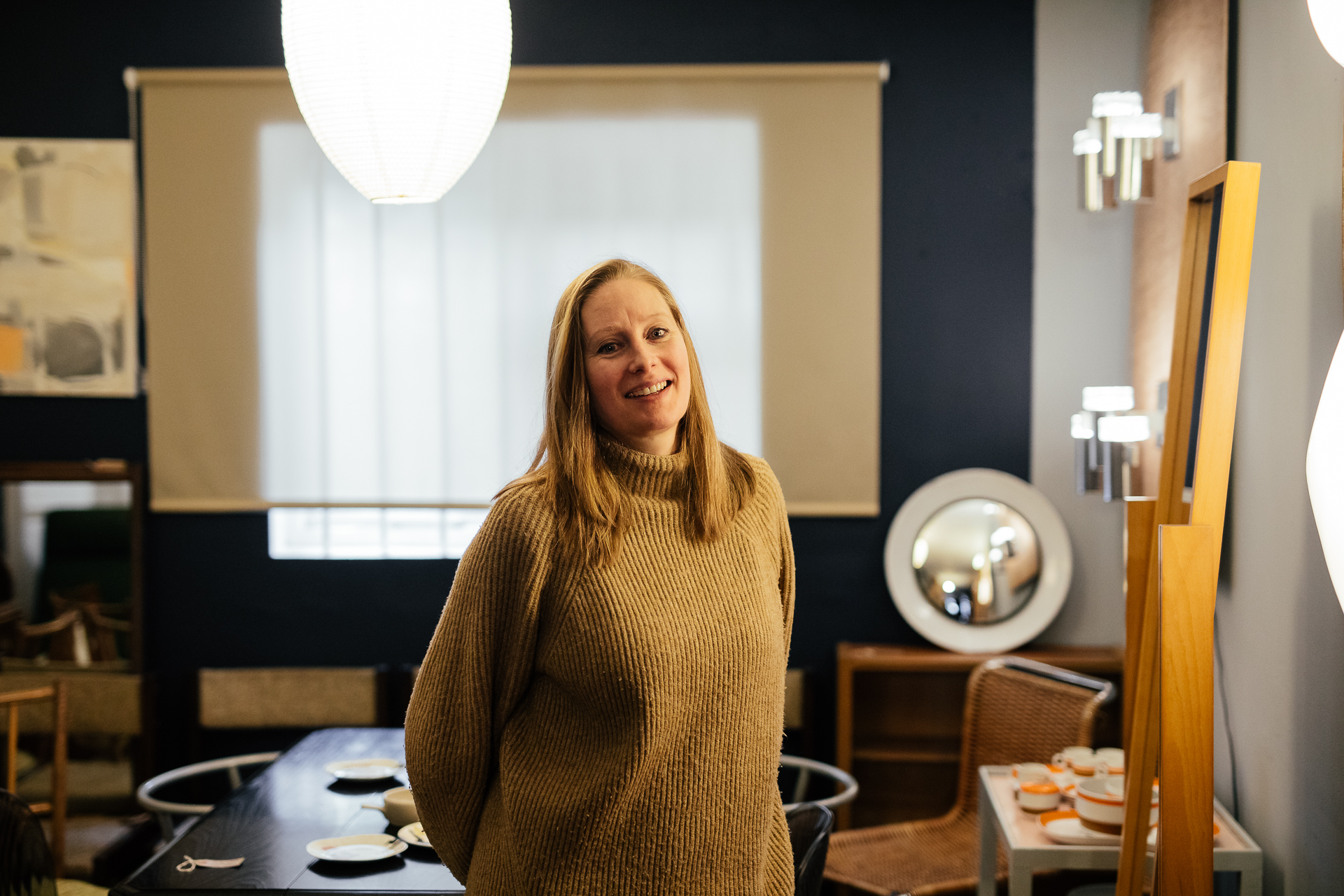 (Picture: Mary, owner of MoseyHome on Stroud Green Road)
Suggestions for How You Can Support Our Local Community:
Instead of stockpiling goods from Tesco try to shop at our local independent delis, groceries, bakers, butchers and fishmongers.
Buy Christmas presents and anti-boredom items for self-isolation from local gift, homeware, wine and clothes shops via their online shops.
Order takeaway or delivery for your lunch or dinner from independent restaurants, pubs and eateries rather than from big chains.
Buy vouchers to send to friends, family or just to use yourself at a later date.
Order or collect (from a safe distance) booze from wine shops and craft beer stores to have at home.
Tip a little more generously wherever possible – including your delivery drivers.
Shop and order online from local businesses wherever possible and use contactless or online payment methods.
Keep using service providers and, wherever possible, use local independent ones such as accountants and laundry services.
Carry hand sanitiser in your pocket and use it when you enter and when you exit a local business – make sure to use it on your wrists too.
Keep your distance from others in the streets, in shops, in parks and when queuing – 2 metres is the current advice.
If you're getting shopping for your household send just one, healthy and non-vulnerable person.
Re-post, share, like and comment on posts from your local businesses this really does help.
Encourage your friends and family to shop local as much as possible, give them local recommendations.
If you feel unwell please do not venture into local shops and businesses.
Check out the #viralkindness campaign and help your neighbours by offering your services – whether it's picking up some shopping or prescriptions for them, or just giving them a friendly call.
Join the Stroud Green Mutual Aid Group (more info below) to join a bunch of friendly locals if you're feeling isolated, anxious or unwell, or if you want to help those who are.
If you are able to, please donate to local causes or offer your services, spare tinned goods or other products to local shelters, food banks and other charitable endeavours – a list of charities can be found below in our directory.
Consider whether you could offer your services in exchange for goods/services/mutual help or at discounted prices to individuals and businesses. For example, could you offer discounted accountancy services to local small businesses? Could you work together with other small businesses to promote each others delivery service? Or band together to offer special delivery services for self-isolating individuals?
Send this article to friends, family and colleagues living in and around Finsbury Park and Stroud Green. They may benefit from one of the local initiatives below set-up to help anxious and self-isolating people. They may also be inspired to support a local business, or just happy to know that they can order delivery from their favourite local eateries!
Follow local businesses on Instagram and Facebook, recommend them to friends. Show your support one follow at a time and be among the first to hear of any offers and updates.
Many local restaurants, bottle shops, delis and other food shops are offering deliveries straight to your door (where they'll be careful to leave the delivery on your doorstep and stand a few metres back). They've also heightened their cleaning and disinfecting procedures. They also ask that customers respect the government advice to stand at least 2 metres away from others if you are queuing in their shops.
Support our local community: spread love, not germs.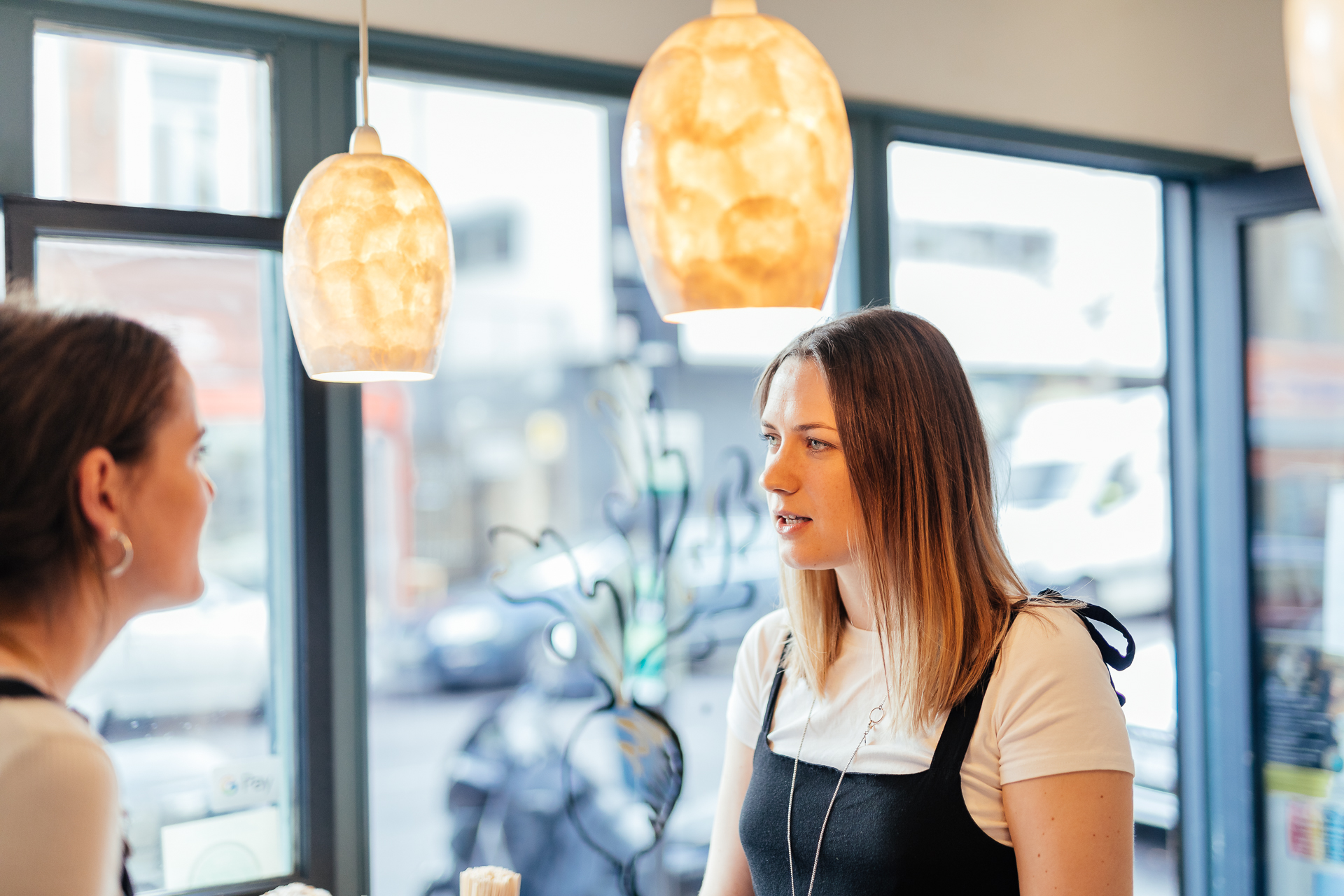 (Picture: Kat, owner of Salt the Radish on Blackstock Road)
Local Directory for Finsbury Park + Stroud Green
Local Restaurants + Coffee Shops
La Saporita:
Our neighbours La Saporita are now open on Monday – Thursday 5pm-11pm and Friday – Sunday 12noon-11pm, and are offering takeaway and deliveries too – we'd recommend trying their Bolognese pizza, we once ordered 10 of these pizzas for a staff party and not one slice was left afterwards. Order via Deliveroo here: https://deliveroo.co.uk/menu/london/finsbury-park/la-saporita or via Just Eat here:  https://www.just-eat.co.uk/restaurants-la-saporita-n4/menu?mw-redirected=637205685470596265
Yard Sale Pizza
From the Holy Moly Pepperoni to the Friday Night Full House – Yard Sale's pizzas are legendary. Available in vegan and gluten free varieties, you can still get your mitts on their pizzas as they are now operating collection and delivery services. They're currently offering 50% off on pizzas for collection and 25% off for delivery to all NHS staff – just send them a DM them with your ID and they'll send you a code to use online or show up with your ID for collections.
If you order through Yard Sale you can also support our local community businesses as you can order beer from Five Points and Beavertown and ice cream from Happy Endings. Yard Sale are offering contact-free delivery, just select the option 'Door stop drop' at the checkout. They are now only accepting pre-payments and will only allow two people inside at one time for collection. Give them a follow and keep track of their latest offers and updates here: https://www.instagram.com/yardsalepizza/
Hana Maria:
One of our favourite pizza joints (and one that opens very late!), Hana Maria, will be open for delivery and collection – hooray! https://hanamariapizza.co.uk/london/ 
Pizzeria Pappagone:
A local legend, having been serving up delicious pizza, pasta and gelato for over 20 years, Pappagone is a big part of Stroud Green. To help support our local community during lockdown 1.0 the team at Pappagone sent a load of pizzas to the Whittington Hospital as a kind surprise to say thank you to the amazing staff there.
For lockdown 2.0 Pappagone will be open for delivery and takeaway only. They're also offering 10% all orders when you call & collect directly from them: 0207 263 2114.
You can also order for delivery online through Uber Eats, Deliveroo and Just Eat. Follow them on Instagram for the latest updates (and mouth watering pics of their food) here: https://www.instagram.com/pizzeriapappagone/
Cafe Mexicali:
If you fancy a break from pizza (we are a neighbourhood of excellent pizza places), then look to Cafe Mexicali on Stroud Green Road. We're big fans of their burritos! You can order their food for delivery, just head to Uber Eats or Just Eat.
Salvation in Noodles:
If you haven't tried SIN's crispy chicken wings then you haven't lived. Purveyors of Vietnamese and Thai dishes, this noodle shack is currently closed but we eagerly await its return.
Pasta Remoli:
Heading back to Italian fare (but not a pizza in sight) we have the amazing Pasta Remoli! Call 020 7263 2948 to arrange your order via collection. You can also order via Deliveroo and Uber Eats.
For any queries please contact them at: homedelivery@pastaremoli.co.uk
Blossom White:
Our favourite place to pick up a pink latte, Blossom White on Stroud Green Road, are opening their doors for takeaway only. They are accepting card payments only and are open from 8am until 4pm. Treat yourself to a selection of baked treats, pastries, sandwiches and coffee with vegan and vegetarian options. They're also giving free coffee to NHS workers. Follow them on Instagram here: https://www.instagram.com/blossommwhite/
Dom's Dough:
Located at the Stroud Green side of Crouch Hill, Dom's Dough serve excellent pizzas for very affordable prices. There's even 20% off for orders over £20. Bargain. We're big fans of the 'Bebe' a white pizza with mozzarella, garlic roasted mushrooms, pancetta topped with fresh pecorino. Cue Homer Simpson style mouth drool.
You can order their pizzas, pastas, sides and booze via Deliveroo here: https://deliveroo.co.uk/menu/london/crouch-end/doms-dough#
Dotori:
Based in Finsbury Park and offering a twist of Korean and Japanese food, Dotori will open their doors for collection and Deliveroo! Dotori also helped to support our local community by giving away free school meals to local primary school children.
They're currently closed until January 21st but when they re-open you can order from Wednesday to Sunday 5-9:30pm by calling 0207 263 3562, or by clicking here. Follow for more updates here: https://www.instagram.com/dotori_london/
Salt the Radish:
Purveyors of excellent brunchy lunchy food Salt the Radish will remain open for delivery and collection via their hatch. Running their usual menu during their usual days and hours. Find them on Deliveroo: https://deliveroo.co.uk/menu/london/green-lanes/salt-the-radish-cafe.
You can also buy vouchers, food, merch and gifts from them! For friends, family or just for you. Treat yo self. Choose from tote bags, za'atar, spice mixes, cards, make at home brunch kits, gift sets and dukka jars here: http://salttheradish.com/shop.
Blighty Coffee: 
Our favourite British themed eatery will not be defeated! During lockdown 3.0 they will be operating a takeaway service – hoorah! They will be open from 8am until 3pm. You can also order merch and excellent coffee beans from their online shop here: https://blightycafe.co.uk/shop/ 
To stay updated you can follow their Instagram account here: www.instagram.com/blightyfinsbury.
Mento:
Fresh flowers and Marley coffee = heaven. Mento are currently closed but you can keep updated by following their Instagram here: https://www.instagram.com/mentoflowersandcoffee/or check out their website here: https://mento.business.site/ .
Osteria Tufo:
With their great tasting and authentic Italian cuisine, Osteria Tufo are a local gem. They will be closed for lockdown 3.0 but you can support the business, and make a loved one (or just future you) very happy, by buying a gift voucher: http://osteriatufo.co.uk/product/gift-card/
Jai Krishna:
Stroud Green's finest vegetarian Indian food experts, Jai Krishna, are open for takeaway from 5pm – 11pm! To order, just give them a ring on 02072721680 or walk in. Keep an eye on their Facebook page for future updates: https://www.facebook.com/JaiKrishnaRestaurant/
Common Ground:
If you've ever tried the weekend waffles, vegan babka or the three cheese toasties at Common Ground then you'll understand why this is a cause close to our hearts (and stomachs).
JANUARY OFFER: all black coffee £2, all white £2.5 (including all milk alternatives) – weekdays only. Serving Dark Arts coffee. Excellent with a cinnamon bun or babka (or both).
You can stay updated by following their Instagram: https://www.instagram.com/commongroundlondon/.
Brick and Olive:
Purveyors of excellent lattes, freshly made sandwiches and traditional Greek dishes with plenty of vege and vegan options. Brick and Olive are open for takeaway only Mon to Fri 10am to 3pm.
Keep and eye on their Instagram for store updates and social distance guidelines: https://www.instagram.com/brickandolive/
Max's Sandwich Shop:
Max's are currently closed but will reopen once the madness has faded. Best to be prepared for their re-opening – so our pick of the menu is: The Korean Gangster: soy braised mutton, two different types of deep fried noodles, kimchi and kraut, baby gem, coriander and ssamjang gravy mayo.
https://www.maxssandwichshop.com/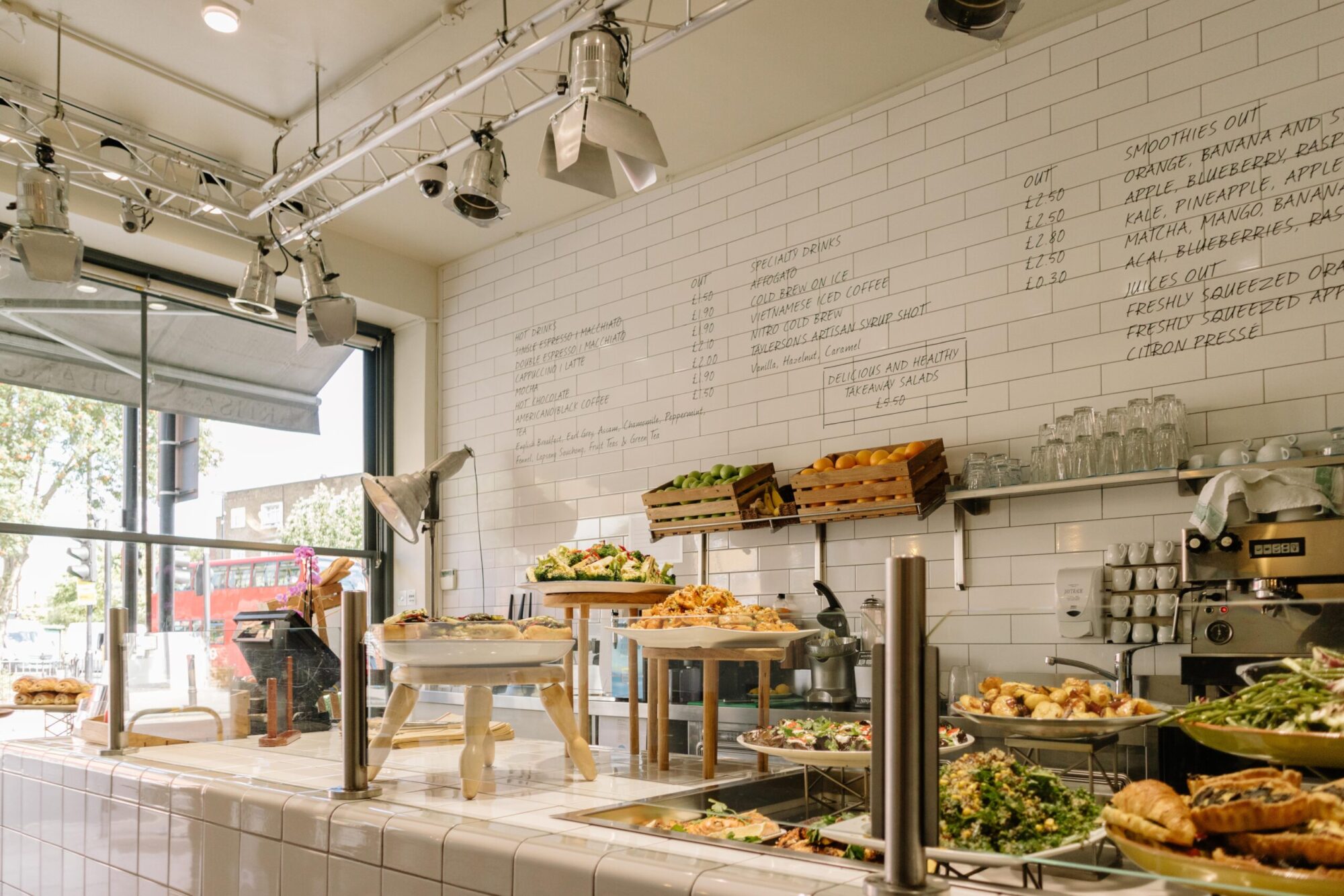 (Picture: Boulangerie Bon Matin on Upper Tollington Park)
Local Shops, Markets & Delis
The Deli at 80:
Forget stockpiling bog roll and spaghetti at Tesco and head over to the Deli at 80 for French Cheese, coffee, fantastic sausage rolls, beautifully baked bread, deli items and the world's best hummus (it's seriously good). The Deli will be open for shopping and takeaway.
They're operating a strict social distancing policy and cleanliness policy, so you'll feel very safe with them, and are operating between 9am and 7pm seven days a week. They're also now selling the famous Season Kitchen chocolate pots (to taste it is to believe it), lasagne and bottled cocktails mixed fresh onsite. Follow their Instagram here: https://www.instagram.com/the_deli_at_80/
Butler's Deli:
Butler's will be remaining open for shopping, takeaway and delivery only. This is brilliant news, because we've just discovered their truffle pecorino, truffle brie and truffle salami (can you tell that we like truffle?) and it brings us unprecedented joy. They stock super tasty cheese, meats, crackers, wines, chutneys, olives, sun dried tomatoes, pate and a whole range of other deli items. They're also very friendly and welcoming.
Open between 9am – 6pm Mon to Sat and 9am – 5pm Sunday. Please pay by card in-store and Butler's ask that only 2 people enter the shop at one time.
If you are self isolating or staying at home they can deliver. Just place your order online or call us directly on 0207 272 4444or on info@butlersdeli.co.uk /
Boulangerie Bon Matin:
Bon Matin will be trying to stay open for takeaway in all of their shops. This includes their brand new location slap bang next to Finsbury Park Station on Wells Terrace. They will be serving their usual delicious vegan bread, quiche, sandwiches, cakes and of course their delicious coffee, so please do drop by for a visit and see them this month.
You access regular updates by following them on Instagram here: https://www.instagram.com/boulangeriebonmatin/
Bacchus N4:
Bacchus, one of our amazing local wine shops, will remain open throughout lockdown 2.0 for takeaway bottles only. They have updated their opening hours to 3pm to 8pm everyday and, amazingly, they also do delivery through Uber Eats. You can purchase wines from all over the world, as well as lagers and spirits from Bacchus – ready for those boozy Zoom parties we've found ourselves thrown back into. Or perhaps a wine and cheese night in with your bubble? Moreover, you can order all of this via Uber Eats and Deliveroo!
Follow Bacchus on Instagram to show your love and for their latest updates: https://www.instagram.com/bacchusn4/
Stroud Green Market:
Stroud Green Market massively help to support our local community by working with a whole array of local businesses, producers, makers and farmers. Their brilliant weekly Sunday market is able to stay open during lockdown 3.0 – yay! You can have a peruse of the traders via their website here: https://www.stroudgreenmarket.com/ 
They are also open for online orders, which you can find via their excellently named online shop 'The Market Barrow': https://themarketbarrow.com/ Find locally made wines and artisan cheeses, right up to regionally produced meats and veggies. Yum.
Urban Native:
A fantastic organic produce shop located towards the Stapleton Hall end of Stroud Green Road, Urban Native is currently open for business and observing social distancing practices.
They are also operating a delivery service for elderly and vulnerable customers only, which they are being helped with by some fantastic local volunteers, simply text your order, the word 'delivery', your name and address to one of the below numbers and they'll send you the delivery time and cost. Collection is also available for all customers, just use the same method as delivery customers but with the word 'collection' and they will send you your collection time: 07769721366 / 07796361480. Keep up-to-date with Urban Native on Instagram here: https://www.instagram.com/urbannativeorganic/
Pretty Shiny Shop:
So full of pretty and indeed shiny (not to mention nice smelly, tasty eaty and, er, warm socksy) items, Pretty Shiny Shop's high street store on Stroud Green Road is open for click and collect, as well as delivery both locally and across the UK. They have an excellent online shop brimming with beautiful gifts, Valentines and birthday cards and treats – all ready to help boost our spirits whilst remaining distant from one another. You can also 'point and pay' via their shop window! Like the world's best vending machine, but with less sugar and more socks.
Why not safely peruse owner Georgina's delightful array of new games and entertainment gifts to bring you and your loved ones something to do during the many hours in quarantine.  https://prettyshinyshop.com/
MoseyHome:
One of our all time favourite homeware shops, MoseyHome have an excellent online shop full of great furniture, soft furnishings and gifts starting from just £5, with both click and collect as well as delivery options. If you're planning on using any spare time to make your home even more lovely, this is the shop for you! There are also lots of lovely items that would make excellent Christmas presents, hint hint hint…
You can also buy vouchers to give to friends, fam or just to use later (which really helps small businesses!), please contact Mary on info@moseyhome.co.uk or by DM on their Instagram https://www.instagram.com/MoseyHome/. Vouchers can be used on their online shop and also on their home/space restyling service – instead of staring at the same four walls, you can re-style those four walls and mix things up a bit.
Online shop: https://www.moseyhome.co.uk/
Oak N4:
Local wine aficionados Oak N4 are open on Saturdays between 1pm and 5pm, for all of your crushed grape needs. Or you can contact wines@oakn4.co.uk for delivery options.
Check out their website for more updates: http://oakn4.co.uk/ or follow them on Instagram here: https://www.instagram.com/oak_n4/ 
Clapton Craft:
Curators of craft beer, Clapton Craft are one of our local high street heroes. Their stock looks like art, tastes like beer and goes down like a treat. They also sell a selection of wine, ciders and unusual soft drinks for those who like their beverages less yeasty. They also stock gift boxes and merch.
Their stores have now opened their doors for takeaway only at the usual opening hours. Don't forget they're also doing online deliveries, with free express shipping on orders over £50. We'd recommend ordering in a selection of beers you've never tried and having your own personal sampling session at home: https://www.claptoncraft.co.uk/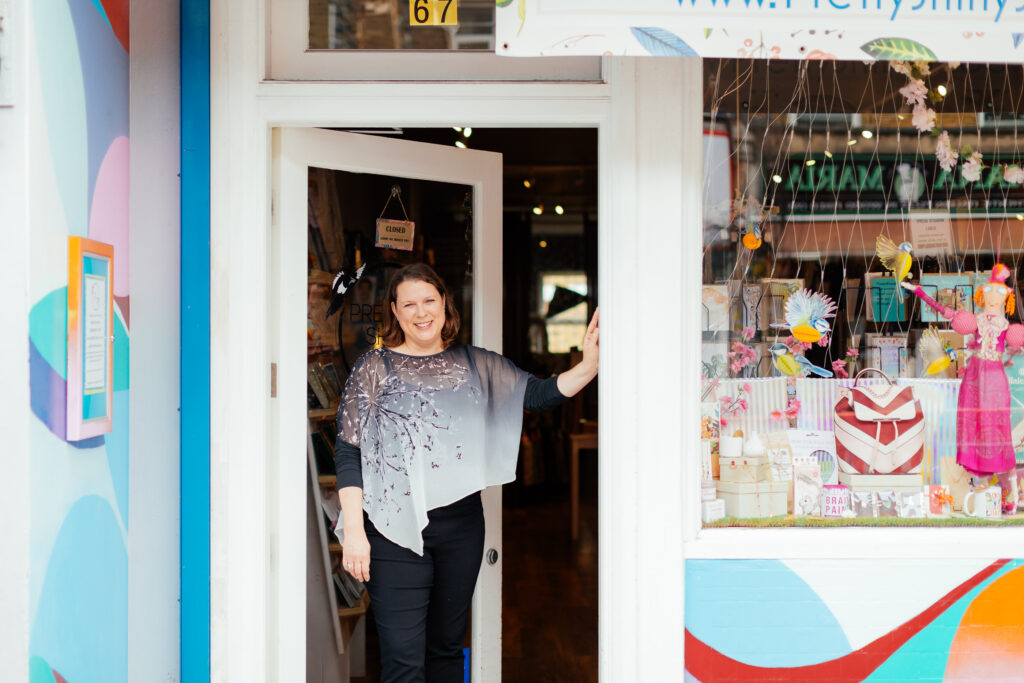 (Picture: Georgina, owner of Pretty Shiny Shop on Stroud Green Road)
Local Charities
FoodCycle:
FoodCycle Finsbury Park is a UK charity that combines surplus food, spare kitchen spaces and volunteers to create three-course meals for people at risk of food poverty and social isolation. They know that vulnerable people rely on their weekly meals, which is why they're doing everything they can to keep their service running but they have, of course, had to make some changes in the way that they operate. Going forward, FoodCycle will be running a takeaway service, where you can collect a meal on Saturdays at 12:30pm.
To see what Projects are running and what services they are offering, you can visit – http://bit.ly/FCserviceupdate They are in need of volunteers still, so if you can help do sign up or register through their link here. Information for FoodCycle volunteers can be found here – http://bit.ly/CV19Volunteers and information for Project Leaders here – http://bit.ly/CV19ProjectLeader
Homeless Link:
Homeless Link charity called on local authorities to establish task forces to support people rough sleeping who catch the virus, as there is an 'alleged lack of guidance on how to safely help rough sleepers who contract Covid-19'. They are working to keep the homelessness sector informed about latest developments in relation to pandemic, and are broadcasting weekly webinars on 3pm Wednesdays, open to all, providing an overview of current responses and emerging practice. Booking opens on Mondays, and you can sign on here and you can also catch up past webinars here. For more information click here.
Streets Kitchen:
You can help get involved and take a look at what grassroots group, Streets Kitchen are doing to help here: https://www.streetskitchen.org/
Crisis:
Crisis shops are now open from 12pm to 5pm and are really looking forward to seeing you all. They are also really grateful for all your support and donations which can still be made here: https://www.crisis.org.uk/get-involved/donate/
Muswell Hill Food Bank:
The Muswell Hill Food Bank really need your help, increased demand has meant that they need to increase their present donations at least 5 times. If you're able to donate financially please do so at https://cafdonate.cafonline.org/10986 or you can donate food items please see their website for contact details and more info here: https://www.trusselltrust.org/get-help/find-a-foodbank/muswellhill/  Even just sharing this information with friends, family or on social media would be a massive help.
Holy Trinity Foodbank, Haringey: 
The Holy Trinity Foodbank operates from the church hall of Holy Trinity Church on Granville Road N4, and distributes food to people in need on Sundays from 1.30-3.30pm. Much like other foodbanks they are experiencing a shortage in donations and a rise in demaned for their services. Individuals and businesses who can help are greatly needed! Their website (http://www.holytrinityfoodbank.org.uk/) explains how people who need to use the food bank can get vouchers, or how those without vouchers can get a temporary one. The church hall itself is on Stapleton Hall Road, right next to St Aidans' School. If you can afford to and are able to leave your house please do donate food, there's a list on their website as to what foods and other items, such as tampons, are required / are in short supply. You can drop off your donations between 1pm – 3.30pm every Sundays. If anyone would like to donate but can't get to the church in person, they can arrange to collect donations from you if you e-mail htfoodbank@gmail.com. Monetary donations can also be made, please just send an email to the aforementioned address and you will be sent the bank details.  If you know someone whose income has gone or diminished and they are having food problems, or perhaps you yourself are experiencing a food shortage please do get in touch with Holy Trinity by email or by phone on 020 8348 9181.
The Hive Foodbank, Islington: 
The Hive Foodbank, https://thehivefoodbank.com/ operates out of St Mary's Hornsey Rise on Ashley Road N19. They distribute to people in need of food and other essentials on Wednesday evenings between 6.30-8.30pm. The Hive mostly accept donations on Wednesdays from 5.30pm – but they can accept donations at other times by arrangement. They also accept monetary donations, via their Charities Aid Foundation (CAF) account – click here to donate. Another Islington Foodbank had to close in late March as it ran out of food, so The Hive, and the other foodbanks listed here, are very much trying to avoid this happening and need your support.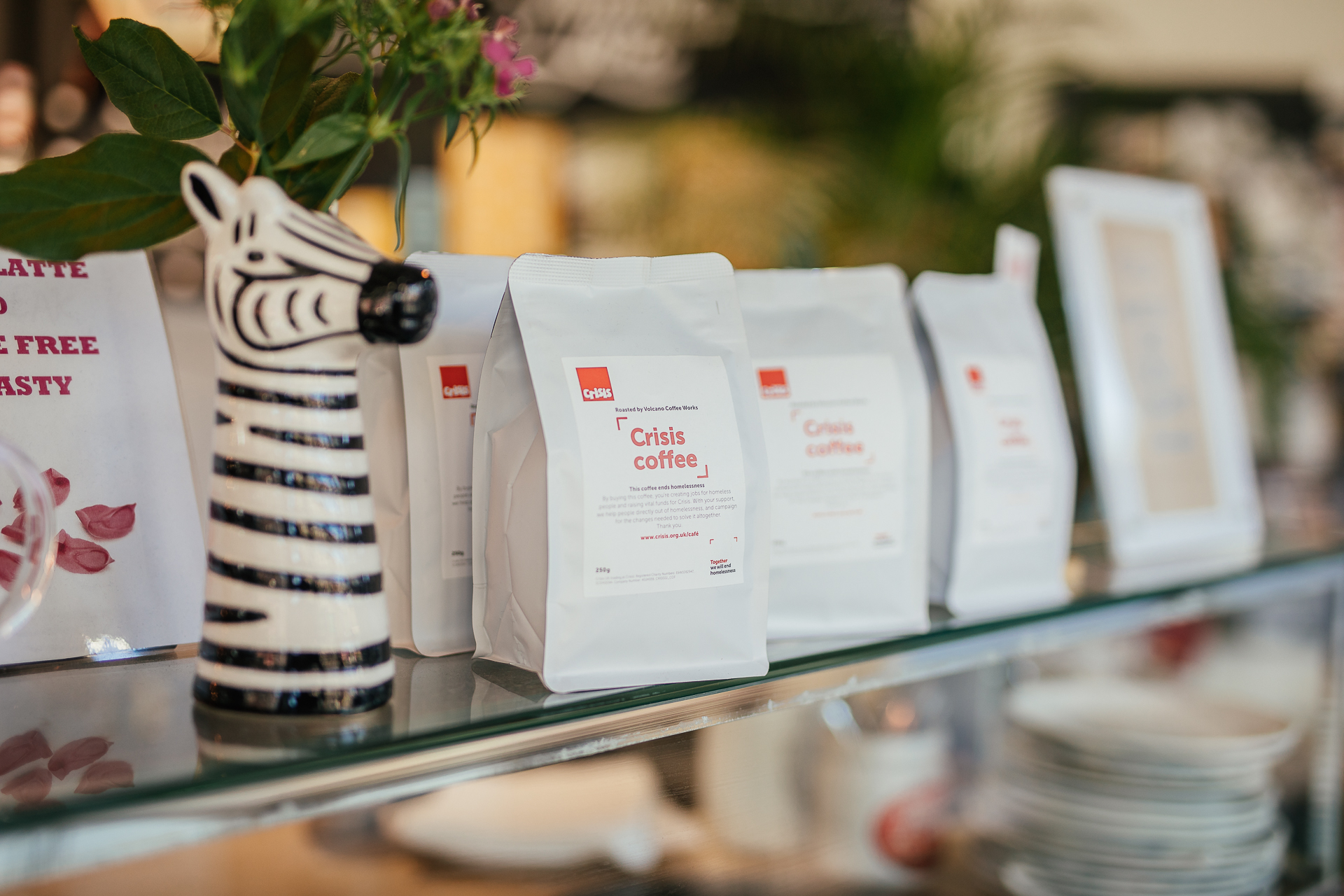 (Picture: Crisis, charity cafe and shop on Stroud Green Road)
Local Pubs & Bars
Brave Sir Robin:
The Brave Sir Robin are staying open for local deliveries only. Fresh beer served straight from the tap into 2 pint growlers alongside cans, soft drinks and wine by the bottle – and maybe a few other bits!
Deliveries are usually from 5-8pm but check their Instagram to be certain. The full menu is available on their website. There's a £5 deposit for your growler, unless you have one from last time. They will be operating an entirely contactless delivery service and will leave your order on the doorstep, then give you a cheeky call from the kerb! You can find updates via their Instagram here: https://www.instagram.com/bravesirrobinn4/
The White Lion:
Our lovely local is now closed for lockdown 3.0. But check out their website for more info: https://www.whitelionn4.com/ 
Make sure to follow their Instagram for more updates: https://www.instagram.com/thewhitelionn4/
W B Yeats & The Auld Shillelagh:
Unfortunately, for now, pubs W B Yeats and The Auld Shillelagh are closing indefinitely
The World's End:
The Worlds End are now closed for lockdown 3.0. Show your support by buying a gift card https://www.worldsendfinsburypark.com/gift-card and/or by following them on Instagram here: https://www.instagram.com/worldsendfinsburypark/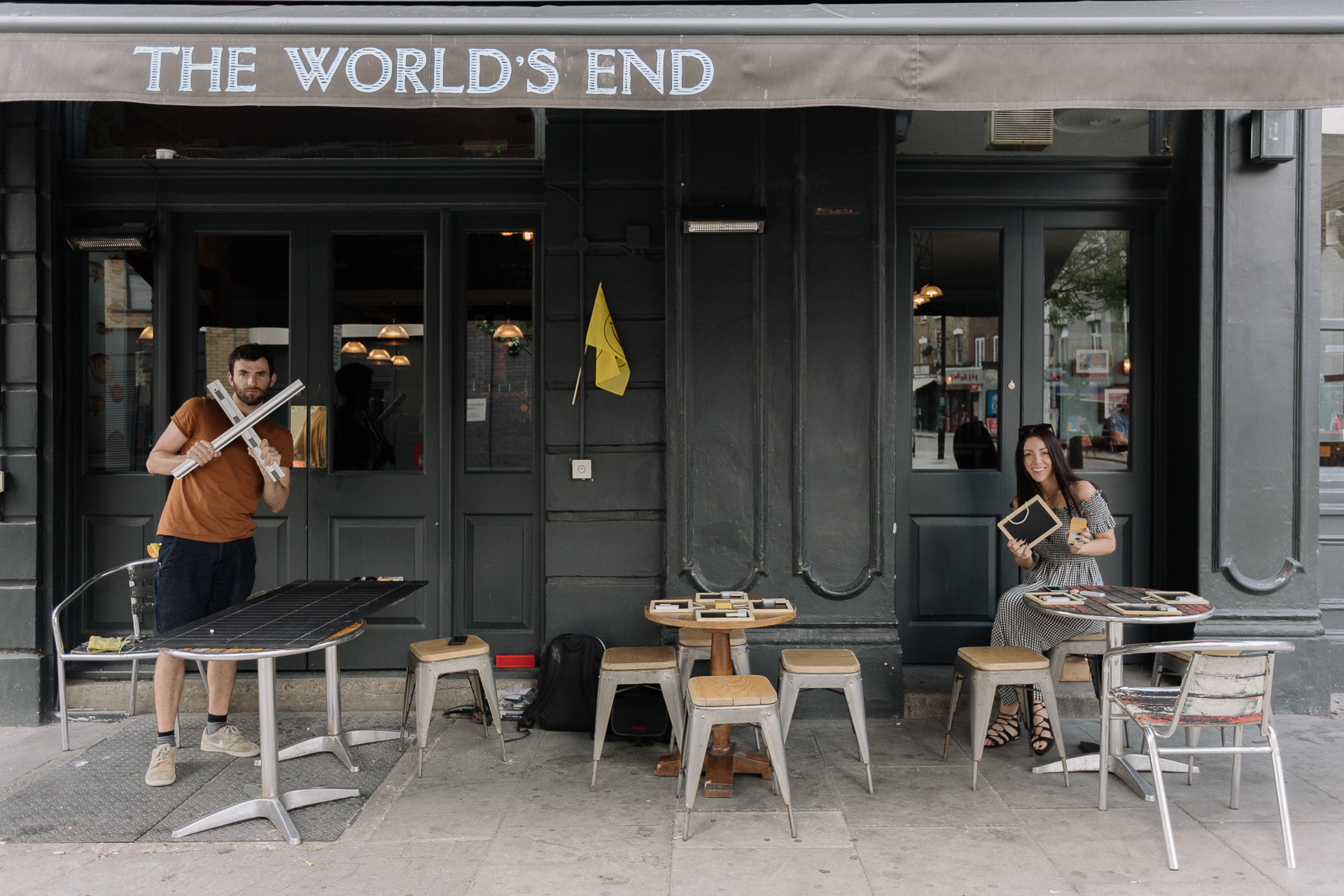 (Picture: Josh, Senior Designer at Barefaced Studios and Claire, Creative Director / Founder at Barefaced Studios and Davies & Davies Estate Agents, outside The World's End pub on Stroud Green Road)
Local Arts & Entertainment Venues
The Park Theatre:
Our local theatre will be closed throughout lockdown 2.0. There will be no more performances, creative learning activities and the café bar will not be open. The theatre states: "we are working with our Board on a plan for future opening but, with the ever changing tide, this is the only news we can share at this time."
Financially there is still a way to support our local community, cultural groups and industries, as Park Theatre go on to explain; "as a small charity, that receives no public funds, a full refund of lost performances could be financially catastrophic for us, so we are asking patrons for the cancelled performances to please consider donating the cost of the ticket rather than requesting a credit note or refund. For those who kindly donate we would like to offer a complimentary one year membership to our Friends Scheme, as a "Key Keeper", where benefits include Priority Booking."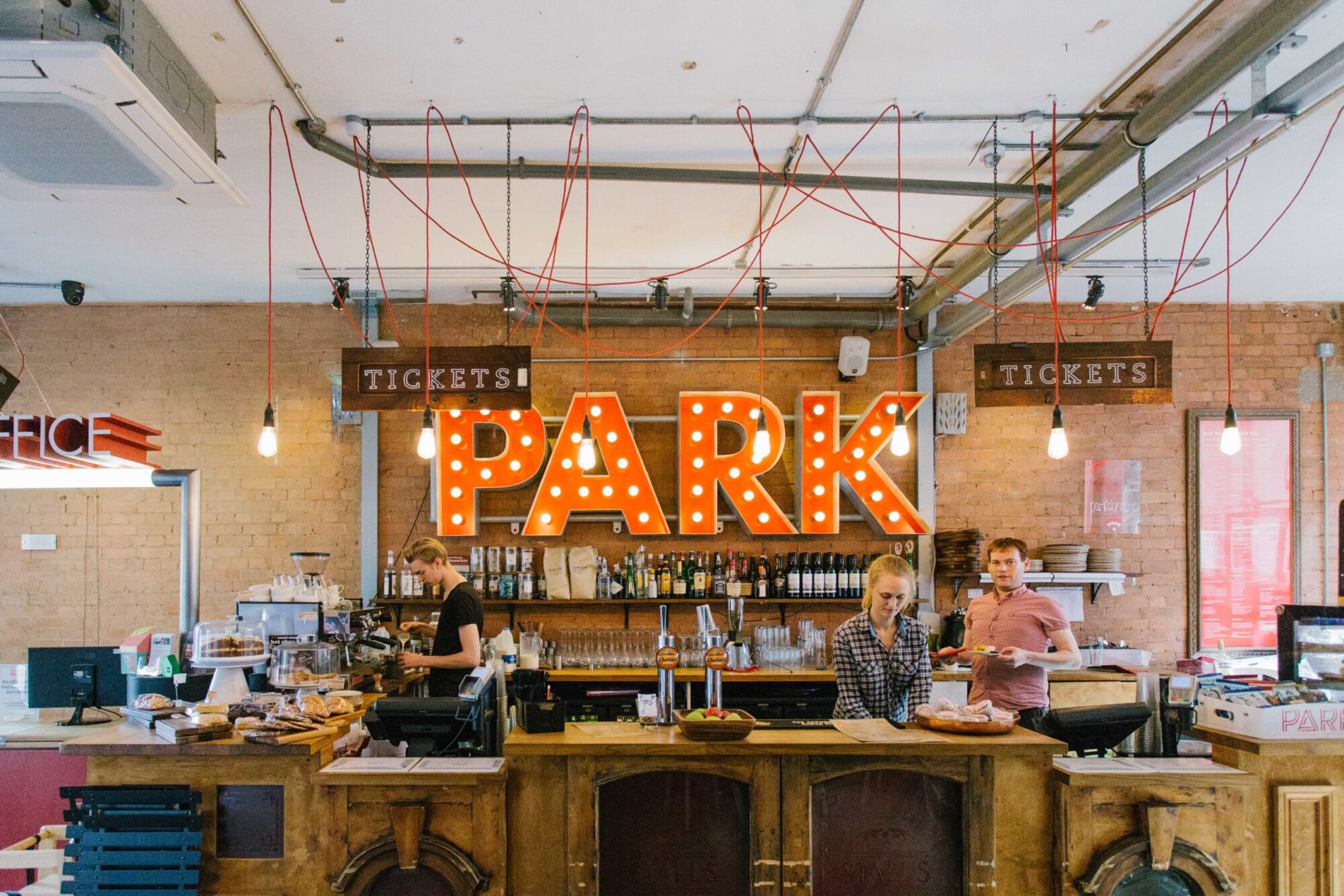 (Picture: Park Theatre on Clifton Terrace)
Local Initiatives to Help Local People
Stroud Green Mutual Aid Group:
Join the Stroud Green Mutual Aid Group if you're local. An increasingly large group of local people are offering support four our local community and practical assistance to anyone who is anxious, isolated, or in need of specific help, there are neighbours willing to help: sg.mutual.aid@gmail.com or text 07502202856.
Local Service Providers
Barefaced Studios:
A locally based design + creative agency who work with us and have worked with Common Ground, Salt the Radish, MoseyHome and the Local Traders Association.
In an effort to support our local community, Barefaced are offering free advice sessions, including one-on-one phone or video calls for local small businesses who want advice on marketing their business during the pandemic. This free service is also available for anyone based in the UK looking to start their own business / side hustle / start-up who would like brand, design, marketing and web design advice. Please send an email to claire@barefacedstudios.com if you'd like to book in for an advice session.
We'll also be releasing free guides, Instagram Story Q&A sessions and other handy survival tips for businesses and start-ups via our Instagram channel here: https://www.instagram.com/barefacedstudios/
Blue Tit Hairdressers:
Blue Tit Crouch Hill (think cool interiors, unpretentious staff, excellent cuts and beautiful colouring) will be closed throughout lockdown 3.0.
Snow White Laundry:
Snow White will remain open with opening hours Monday -Fridays 7:30am–7pm, Saturdays 9am-6pm and Sundays 11am-3pm. Check out their website here: http://snowwhitedrycleaners.co.uk/
Em's Barbershop:
Em's has closed for lockdown. For more updates, follow them Instagram here: https://www.instagram.com/ems_barbershop/
(Picture: Claire and Tom of Barefaced Studios)
Local Friendly Estate Agents
Davies & Davies Estate Agents:
That's us, hello! In line with the government guidelines, the property market has been allowed to remain open and estate agents are able to continue to operate. Whilst most of our team will be in the office,  to keep our team and customers safe, visiting us is by appointment only. Viewings and property valuations are also still able to go ahead.
Please find more information about our opening hours and FAQs for during the lockdown – such as what to do if you're worried about paying/receiving your rent here: https://www.daviesdavies.co.uk/2020/03/opening-hours-information-during-the-covid-19-outbreak/
To help support our local community we will continue to:
maintain this directory as resource for local people and to help local businesses;
donate financial support to local organisations, charities and causes, such as the Stroud Green Food Bank;
provide advice for people concerned about the pandemic's effects on the property market, as well as guidance for tenants, buyers, landlords and home owners, via our newsletter and blog, which can be found here: https://www.daviesdavies.co.uk/useful-guides-insights/;
donate 2% of our profits to charity. 1% of our profits goes to local suicide prevention charity Maytree https://www.maytree.org.uk/
We'll keep this info updated as things change but for now we're available on our direct emails, mobile phones, office phone (0207 272 0986) and on info@daviesdavies.co.uk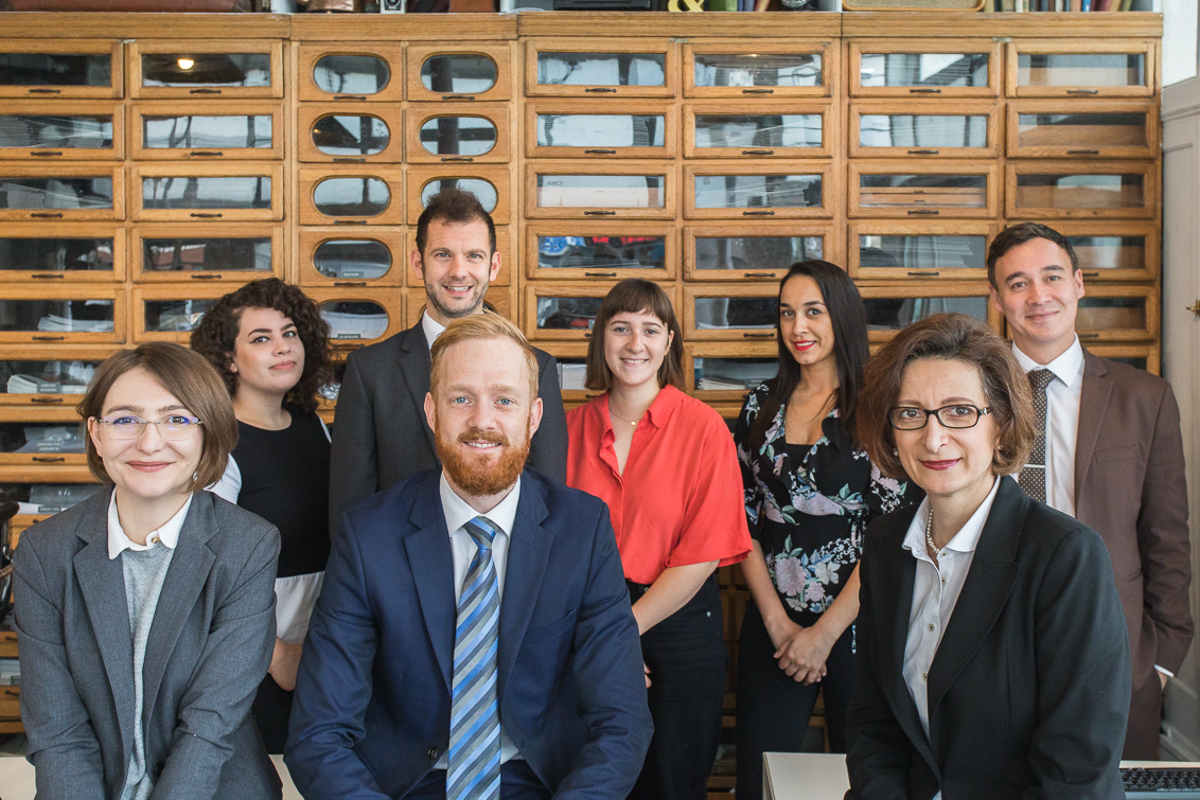 (Picture: some of the lovely team at Davies & Davies Estate Agents on Stroud Green Road)
#ViralKindess 
Non specific to Finsbury Park is the hashtag #viralkindness, which began with a copywriter called Becky who decided to create a calling card for people to fill in and pop through neighbour's letterboxes. We think it's a brilliant idea as I'm sure you do too, so get printing here: https://drive.google.com/file/d/1L_8GoI1zQ572fBZtElFfQZI9vNEwK7Rf/view and keep the hashtag #viralkindness trending.
In times like this let's all support each other, wash our hands and call your not so nearest and dearest.
Stay safe, be kind.
Written in partnership between Davies & Davies Estate Agents and Barefaced Studios. All photography by Barefaced Studios.
From all at Davies & Davies:
Mark D, Laurence, Claire, Alex, Mark S, Katrina, Derek, Fabio, Anca, Javerna, Alisha, Lamar, Tavia, Clint, Laura & Colin
And from all at Barefaced Studios:
Claire, Tom, Sophie, Josh, Veronika, Mike, Ben, Rob, Odera & Saphia
Please note:
We can't guarantee the accuracy of all of the information provided in this article and directory. This directory is being run and updated in an effort to help support our local community and isn't being manned or updated every day. All advice given within this article is for general guidance only and should not be considered legal advice. Any links to external websites are accessed at the users own risk. We cannot guarantee the accuracy of any advice or information contained within external sources and websites not run by Davies & Davies or Barefaced Studios and users accessing this advice or information do so at their own risk.
19 March 2020
Back to Helpful Guides & Insights