How to Make Your Rental Property Stand Out Online
Stop scrollers in their tracks with these clicktastic tips
Turn to the left! Turn to the right! Stop traffic! It's time to stand out from the, let's face it, over saturated rental crowd. An audience of potential renters are numbly scrolling as we speak. Gliding their mouse over hundreds of laminate floored carbon copies and forgetting their own names, never mind their monthly budget or reason to live. Let's give them something to really get excited about and show your property in its best light/angle. Here's our handy guide to blasting the competition out of the water. Sashay away…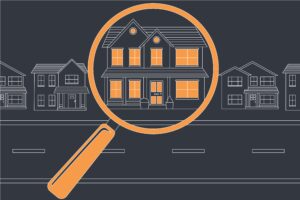 You had me at the driveway
Well hello there good looking, what's cooking? Before we take a look at your fresh white splashback, let's inspect your front garden. First impressions count enormously when it comes to luring in potential tenants. Particularly as the front of our property is usually the image used for thumbnails in property listings. Therefore, it's crucial to keep a well maintained bush and carefully varnished front porch. Less sniggering at the back please boys. Think raked driveways, polished windows and freshly painted doorways and you'll be well on your way to mastering the so called 'kerb appeal'. If you're renting out a flat within a shared building, don't hesitate to contact maintenance. Try to keep the neighbours on board to help make sure communal spaces stay ship shape and close up ready.
Find your best angle
Strike a pose, let's get to it, find your property's best features, there's nothing to it. There are a certain list of keywords that make prospective renters eyes light up with little key emojis. Currently, for example, the potential for a 'home office' is predictably high on that list. As is 'outdoor space' (communal or otherwise) for the working from home crowd, who need to do laps around the yard in between video calls.
Whether you have a second bedroom that could be converted into an office, or a lounge big enough for a desk and plant, make sure to add that into your listing post haste. More generally, it's also a good idea to list any recent renovations and period features (we all love us some original cornicing). Any surrounding highlights are a plus too. Such as tube stations, hospitals and your favourite indie coffee shop round the corner. Access to good coffee and the amber nectar of London (avocado on toast), is remarkably important for generation rent.
It's what's on the inside that counts
This may sound like a cliché, as well as a glaringly obvious point, but do make sure your property is on top form for viewings. Don't rely on current tenants to keep the place rental ready. Nor take their word for it that no repairs are needed and the garden is 'fine'. More often than not 'fine' translates to 'foxes have moved in, hijacked the bins and built a tent made out of chicken bones'.
Make a point of visiting the property yourself and keeping on top of all necessary repairs and maintenance. While renters have imaginations, it can be difficult to see past current clutter and shower gel collections. So it's worth having a Marie Kondo moment ahead of time. Take a look at our guides and insights for more tips on sprucing up your rental from the inside out – like this article (click me).
Get ahead of the competition
Just like how you found out your ex's new partner's mum's best friend is a raging anti vaxxer with a hairless cat, you should do the necessary research. You have our permission to take a good old spy on the competition and find out what similar properties have that you don't. Or even the other way round – where your property shines over its neighbours. We're talking private outside space over communal or a newly fitted kitchen or bathroom. Original features, more than one bedroom and corner properties (end of the street houses are often larger) are all sought after. Find out what boosts your kerb appeal and you can raise your rental price accordingly. Whilst slapping a smug smile all over your face and sauntering past number 32.
Play it safe
This needs to be higher up the list of necessities when renting. So make a mental note. As a landlord it's your responsibility to make sure your property meets all the relevant safety regulations. What's also rather important is that these checks and repairs are carried out before accepting Tom, Harry and Jane's deposits and watching them move their extraordinary collection of house plants in.
You'll be doing yourself a favour in the long run, cost wise, as any potential issues are nipped in the bud, much like Harry's begonias. You'll also avoid hefty fines and even potential prison time. You can find landlord compliance checklists online (or through us) to make sure you are compliant with applicable UK laws and regulations. You can also have a read of our useful, does-what-it-says-on-the-tin guide for landlords, 'How not to kill anyone or end up in jail'.
Who you gonna call? Davies & Davies!
Whilst a fantastic investment, there's a heck of a lot of responsibility involved with renting out your abode. That's where we come in and pretty much do all of the above on your behalf. Hiring us to rent and manage your property means you don't have to worry about researching the competition (we know this neighbourhood like the back of our hands). Nor will you have to spend hours securing and dealing with tenants, managing maintenance issues, or ensuring you're compliant. We'll also help you find ways to raise your property's value and advise on the latest rules and regulations. Have a browse of our aptly titled guide 'Landords Ask: What's the Point of Having My Property Managed Professionally'.
Whether you're ready to fill your abode with renters. Or just beginning to ponder the idea of becoming a landlord. We're right here ready to help. Give us a call/email, or drop in to our Stroud Green Road office, we're always pleased to see you.
Contact us:
alex@daviesdavies.co.uk – Lettings Director (contact for lettings and property management)
mark@daviesdavies.co.uk – Sales Director (contact for sales, new homes and chartered surveying)
020 3820 2492
Davies & Davies Estate Agents, 85 Stroud Green Road, London, N4 3EG
Article & images by Barefaced Studios
23 September 2021
Back to Helpful Guides & Insights